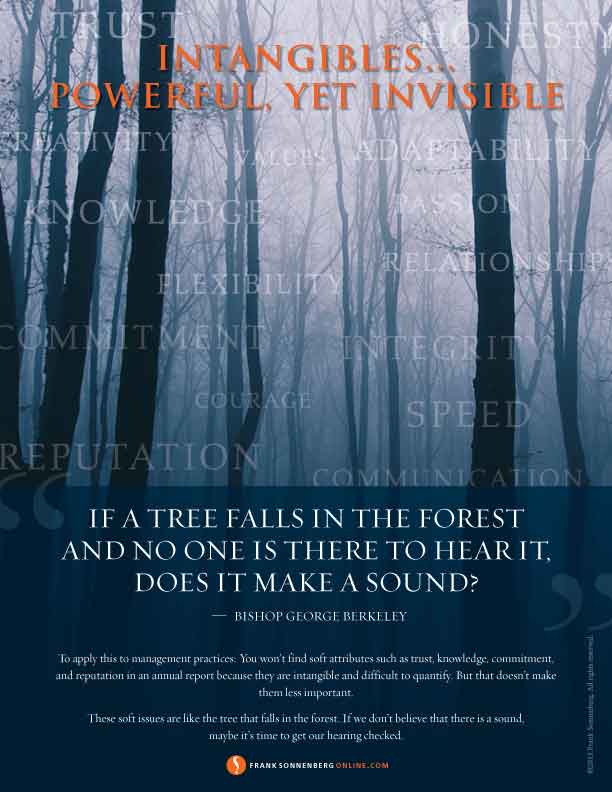 [pinit count="horizontal"]
Intangibles…Powerful, Yet Invisible
The world is changing at a blistering pace. In years past, the health of a company was measured by the size of its balance sheet. While that still may be true today, great leaders know that an organization's competitiveness is clearly determined by its ability to harness the power of intangibles –– often referred to as "soft issues." Welcome to the Age of Intangibles.
The truth is, any organization that wants to achieve excellence must emphasize the importance of intangible factors such as empowering its workforce, communicating in an open and honest manner, building trust among employees, promoting continuous education and the personal and professional growth of its employees, creating a work environment that encourages risk and discourages fear, improving business processes and eliminating waste, nurturing long-term relationships with suppliers and customers, working hard to develop an impeccable reputation, living according to sound business ethics, and unifying the organization around a mission and shared values.
What do people mean when they say these issues are soft? Are they saying that they are not effective management practices and that they do not enhance results? Or are they saying that because these things are difficult to quantify and measure, they make management uncomfortable and uneasy?
There is a tendency to believe that if something cannot be quantified, it does not exist. It brings to mind the question associated with Bishop George Berkeley, an early 18th-century British philosopher: If a tree falls in the forest and no one is there to hear it, did it make a sound?
To apply this to management practices: You won't find these soft attributes in an annual report because they are intangible and difficult to quantity. But that doesn't make them less important.
These soft issues are like the tree that falls in the forest. If we don't believe that there is a sound, maybe it's time to get our hearing checked.
Do You Emphasize Intangibles in Your Organization?
Additional Reading:
Counterfeit Leadership
Welcome to the New Age of Intangibles
Managing With a Conscience
If you like this article, subscribe to our blog so that you don't miss a single post. Get future posts by RSS feed, email or Facebook. It's FREE.