Get BOOKSMART: Hundreds of real-world lessons for success and happiness
It gives me great pleasure to introduce my new book — BOOKSMART: Hundreds of real-world lessons for success and happiness. It's the product of a great deal of care and reflection and has been a year and a half in the making.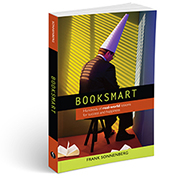 About BOOKSMART
What are life's most important lessons? It's time to get booksmart!
In this book, I draw from my background as one of America's "Top Thought Leaders" and influential small-business experts to reveal my best strategies for unleashing your full potential and achieving success and happiness in life.
I assure you my book provides practical, rock-solid advice that will help you strengthen relationships, achieve life balance, boost your career, improve your mental health, grow a business, develop a sound reputation, navigate tough times, and lead a more productive and meaningful life.
Praise for BOOKSMART
"Buy it; read it; live it. Then you'll want to give copies to those you really care about. I guarantee you won't regret it."
BOB VANOUREK
Award-winning author and five-times corporate CEO
"If you buy only one book this year, get BOOKSMART. It simplifies the complicated, and it gives meaningful answers to our questions about success and happiness."
LOLLY DASKAL
Founder and President, Lead From Within
"One of The Most Inspiring Women in the World!" The Huffington Post
"Awesome! BOOKSMART will provide you with powerful ideas and tools for creating a more meaningful and rewarding life."
JOHN SPENCE
"Among Top 500 Leadership Development Experts in the World." HR.com
"Witty, incisive, and profound! I highly recommend this book to anyone who realizes that mastering success begins with mastering oneself."
AUGUST TURAK
Author, Business Secrets of the Trappist Monks
"As a professional book reviewer for various eminent international journals, I read thousands of books. This is definitely one of the most inspiring! I strongly recommend it."
PROFESSOR M.S. RAO, PhD
Father of "Soft Leadership" and the author of 30 books
"Are you book-smart or street-smart? The best in business are both! In this terrific collection of leadership insights, Frank shares the secrets you need to serve — and lead — in your life and work."
JAMES STROCK
Author, Serve to Lead
"No one should be without Frank's beautiful pearls of wisdom. They're like hugs that propel you toward your dreams."
SARAH HINER
President and CEO, Bottom Line Inc. (Publisher of Bottom Line Personal)
"Any one of the subjects Frank writes about offers a valuable life lesson. But when you combine them all in one book, they pack a powerful punch that makes BOOKSMART priceless."
CATHERINE LEPONE
Executive Director, Youth Development Organization
"BOOKSMART is full of ideas that will help enrich your character –– it provides the inspiration and motivation to be the best possible you."
AMY SMIT
Associate Director, The Ray Center (Formerly Character Counts in Iowa)
"Frank Sonnenberg is one of the most respected thought leaders of our times. He has the gift of imparting profound life lessons in practical, inspiring stories that we all can relate to."
MELANIE GREENBERG, PhD
Clinical Psychologist
Expert Blogger, Psychology Today
Get BOOKSMART for Yourself and Your Closest Friends.
Get BOOKSMART today. Order Now!    Paperback    Kindle
I've made special quantity discounts available. What are your needs?
Please share this with someone who can benefit from the information.
Additional Reading:
Follow Your Conscience
Managing with a Conscience
If you like this article, subscribe to our blog so that you don't miss a single post. Get future posts by RSS feed, email or Facebook. It's FREE.
Save
Save
Save
Save
Save