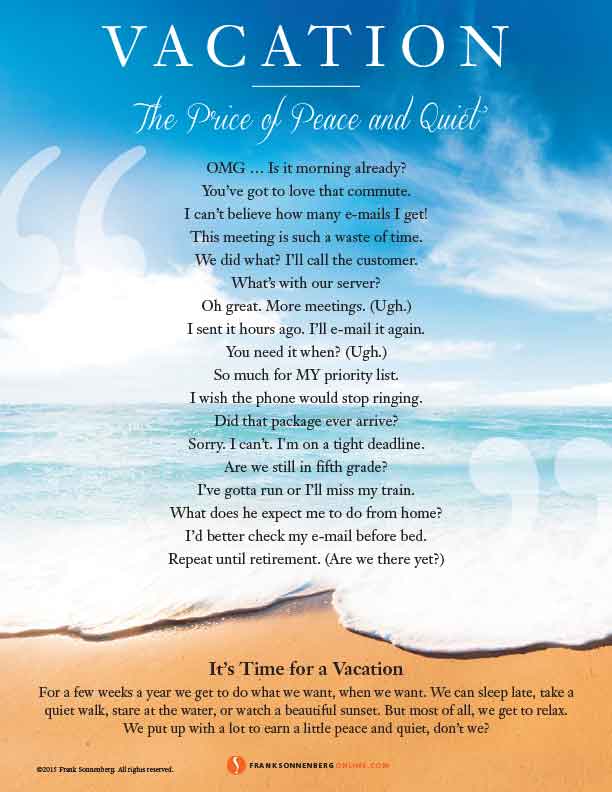 [pinit count="horizontal"]
Vacation: The Price of Peace and Quiet
"OMG … Is it morning already?"
"You've got to love that commute."
"I can't believe how many e-mails I get!"
"This meeting is such a waste of time."
"We did what? I'll call the customer."
"What's with our server?"
"Oh great. More meetings. (Ugh.)"
"I sent it hours ago. I'll e-mail it again."
"You need it when? (Ugh.)"
"So much for MY priority list."
"I wish the phone would stop ringing."
"Did that package ever arrive?"
"Sorry. I can't. I'm on a tight deadline."
"Are we still in fifth grade?"
"I've gotta run or I'll miss my train."
"What does he expect me to do from home?"
"I'd better check my e-mail before bed."
Repeat until retirement. ("Are we there yet?")
It's Time for a Vacation
For a few weeks a year we get to do what we want, when we want. We can sleep late, take a quiet walk, stare at the water, or watch a beautiful sunset. But most of all, we get to relax. We put up with a lot to earn a little peace and quiet, don't we?
When Is Your Next Vacation?
Additional Reading:
Doing Nothing Is Time Well Spent
Make Time: There's No Dress Rehearsal in Life
Moments of a Lifetime
Your Happiness Lies in the Balance
If you like this article, subscribe to our blog so that you don't miss a single post. Get future posts by RSS feed, email or Facebook. It's FREE.