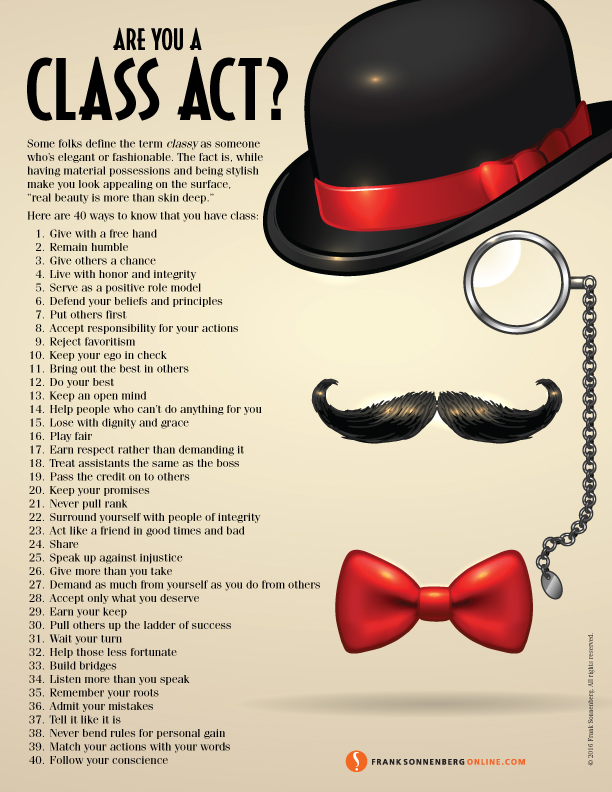 [pinit count="horizontal"]
Are You a Class Act?
Some folks define the term classy as someone who's elegant or fashionable. The truth is, people aren't classy just because they drive an expensive car, follow the latest trends, or wear the latest fashion. Being a class act isn't about how much money you have or whether you have a strong pedigree. Being a class act is more about who you are and what you do rather than what you own or who you pretend to be. The fact is, while having material possessions and being stylish make you look appealing on the surface, "real beauty is more than skin deep."
40 Ways to Know That You Have Class
Give with a free hand
Remain humble
Give others a chance
Live with honor and integrity
Serve as a positive role model
Defend your beliefs and principles
Put others first
Accept responsibility for your actions
Reject favoritism
Keep your ego in check
Bring out the best in others
Do your best
Keep an open mind
Help people who can't do anything for you
Lose with dignity and grace
Play fair
Earn respect rather than demanding it
Treat assistants the same as the boss
Pass the credit on to others
Keep your promises
Never pull rank
Surround yourself with people of integrity
Act like a friend in good times and bad
Share
Speak up against injustice
Give more than you take
Demand as much from yourself as you do from others
Accept only what you deserve
Earn your keep
Pull others up the ladder of success
Wait your turn
Help those less fortunate
Build bridges
Listen more than you speak
Remember your roots
Admit your mistakes
Tell it like it is
Never bend rules for personal gain
Match your actions with your words
Follow your conscience
Are You a Class Act?
Additional Reading:
52 Ways to Be Rich Without Being Wealthy
How to Build a Great Reputation
Be Humble: Don't Let Success Go to Your Head
50 Things Money Can't Buy
Please let your friends know that they can subscribe to our blog, for FREE, via email, Facebook, RSS feed, or Twitter.
Save
Save
Save
Save