Some people intuitively know that personal development is critical, but they either feel they've spent lots of years in school, think they can't find the time, or think they already know everything there is to know about everything. So personal development is relegated to the backburner.
There are five critical areas that you should address. They are: building a reservoir of knowledge, mastering critical skills, gaining valuable life experience, forming a beneficial mindset, and developing a strong moral character.
Build a reservoir of knowledge. Just because you have unlimited access to information these days doesn't guarantee you're benefitting from it. It's important to be curious, discerning, open-minded, and careful that the information you receive is of high quality — credible, accurate, objective, comprehensive, and of course, relevant in some way. Everything you learn is like money in the bank.
Master critical skills. Skills are tools that you use to apply your knowledge. Examples include critical thinking, problem solving, interpersonal communication, stress reduction, and time management. It's important to refine your skills by always remembering that practice makes perfect. Conversely, practice doesn't make perfect if you're doing it wrong.
Gain valuable life experience. Professional development shouldn't be limited to formal work experience; you can learn as much from playing a sport or learning to play a musical instrument. The truth is, performing the activity isn't what counts; it's the know-how gained from the encounter. You'll learn valuable lessons every time you leave your comfort zone, set stretch goals, accept feedback, reflect on your experience, and learn from mistakes and failures.
Form a beneficial mindset. Every experience that you have will shape your mindset and your view of the world. You'll learn such things as the power of positive thinking, how to face adversity, the importance of determination, how to confront your weaknesses, and how to rebound from disappointment.
Develop a strong moral character. Senator Alan Simpson said it well, "If you have integrity, nothing else matters. If you don't have integrity, nothing else matters."
Personal development is a building process in which all the aha moments that you have are cumulative — and are added to your toolkit. Those who think that learning is over upon graduation are sadly mistaken. If you think the world is going to stand still because you're not interested or motivated enough to make an investment in yourself, you're sadly mistaken; unless you learn something new every day, you're becoming obsolete. Learning is as much an attitude as it is an activity. As Albert Einstein said, "Wisdom is not a product of schooling but of the lifelong attempt to acquire it." If you don't make the commitment, don't complain about the outcome.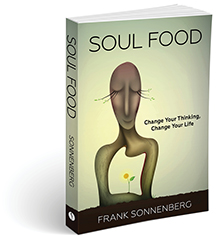 This post is adapted from Soul Food: Change Your Thinking, Change Your Life by Frank Sonnenberg
Are You Learning Every Day?
Please leave a comment and tell us what you think or share it with someone who can benefit from the information.
Additional Reading:
Live and Learn
Make Experience Your Best Teacher
Why Learn the Hard Way?
If you like this article, subscribe to our blog so that you don't miss a single post. Get future posts by RSS feed, email or Facebook. It's FREE.