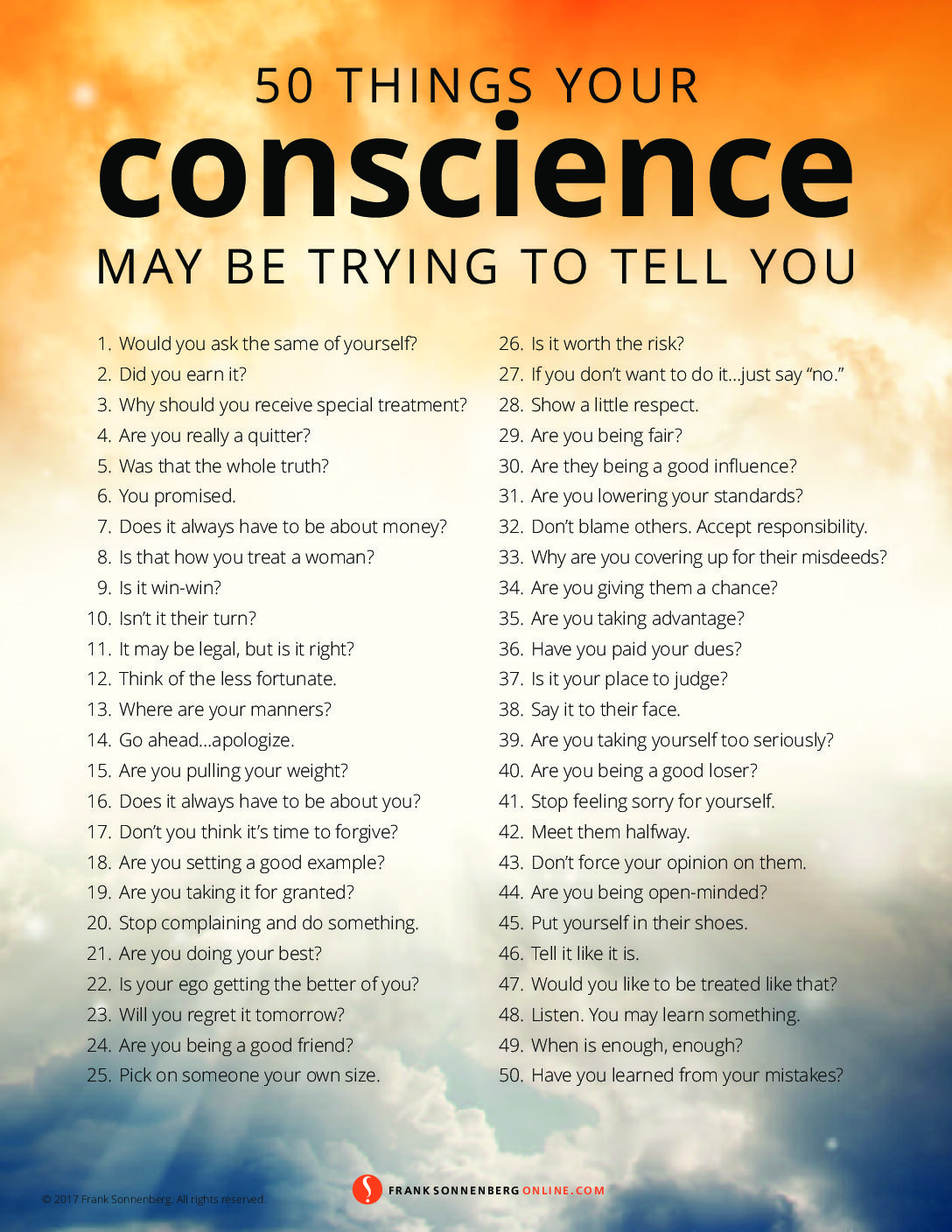 [pinit count="horizontal"]
50 Things Your Conscience May Be Trying to Tell You
Listen to your conscience. That's why you have one.
Would you ask the same of yourself?
Did you earn it?
Why should you receive special treatment?
Are you really a quitter?
Was that the whole truth?
You promised.
Does it always have to be about money?
Is that how you treat a woman?
Is it win-win?
Isn't it their turn?
It may be legal, but is it right?
Think of the less fortunate.
Where are your manners?
Go ahead…apologize.
Are you pulling your weight?
Does it always have to be about you?
Don't you think it's time to forgive?
Are you setting a good example?
Are you taking it for granted?
Stop complaining and do something.
Are you doing your best?
Is your ego getting the better of you?
Will you regret it tomorrow?
Are you being a good friend?
Pick on someone your own size.
Is it worth the risk?
If you don't want to do it…just say "no."
Show a little respect.
Are you being fair?
Are they being a good influence?
Are you lowering your standards?
Don't blame others. Accept responsibility.
Why are you covering up for their misdeeds?
Are you giving them a chance?
Are you taking advantage?
Have you paid your dues?
Is it your place to judge?
Say it to their face.
Are you taking yourself too seriously?
Are you being a good loser?
Stop feeling sorry for yourself.
Meet them halfway.
Don't force your opinion on them.
Are you being open-minded?
Put yourself in their shoes.
Tell it like it is.
Would you like to be treated like that?
You may learn something.
When is enough, enough?
Have you learned from your mistakes?
Save
What Is Your Conscience Trying to Tell You?
Please leave a comment and tell us what you think or share it with someone who can benefit from the information.
Additional Reading:
Moral Character Matters
Live with Honor and Integrity
Reputation: You Can't Run from Your Shadow
If you like this article, subscribe to our blog so that you don't miss a single post. Get future posts by RSS feed, email or Facebook. It's FREE.
Save
Save
Save
Save
Save
Save