Successful leaders know that their employees are their most prized asset. Why aren't they always treated that way? Why are managers puzzled by employees who are highly motivated outside of work but show little initiative on the job; people who put in time but no energy; people who spend more time working on their résumés than on the activities at hand. A management style that produces these results obviously won't be enough to compete in today's global economy, especially given the changes taking place in worker attitudes today.
Leading Morale: The People Skills to Stop Negativity & Ignite Contributions by Kate Nasser is a must-read. I found it to be practical, insightful, and packed with actionable advice. In fact, I nodded yes so many times, I got a sore neck. If you're looking to gain decades of real-world experience, read this book. I recommend it highly. This post is an excerpt from Kate's book, used with permission.
It is important to mention that I do not accept, nor did I receive, any benefit for my endorsement. My sole purpose for publishing this piece is to share a valuable resource with you.
–– Frank Sonnenberg
7 Steps to Go from Brutally Blunt to Helpfully Honest
By Kate Nasser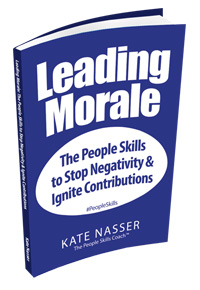 Honor people as well as your message. Most bluntness is driven by your needs and the singular focus on what you want to communicate. That's how it creates trouble. Honor others as well as your message.
Be open to other possibilities. What you say is rarely an absolute fact. There are other perspectives, conditions, opinions, and possibilities to consider. When you communicate from this mindset, you are more likely to have an honest dialogue with people instead of a blunt monologue. Stay open to other views to avoid being blunt.
In difficult situations, never start a sentence with the word "you." Imagine saying, "You aren't doing your job" or "You are failing badly." Starting with "you" comes across as a blunt attack. It dings morale and breeds a defensive response. Instead, start with "Here's what we need and this is what we see you doing. Let's talk about how you see it and how to close the gaps." Now the employee can hear your message and you can discuss specifics on what to change.
Separate the emotion out of negative situations to avoid being brutally blunt. Say, "I want to put aside my emotion and talk about this situation." It shows the other person you want to speak honestly without insulting them. However, do not use this intro to justify being blunt. It's hypocritical. Your words and actions must honor people with honesty rather than bruise them with bluntness.
Use a sense of proportion to reduce bluntness. Bluntness, by definition, is the negative extreme of communication. Bluntness is emotion packed. Ask yourself: Why must I use this extreme and inflict scars? What words, with better proportion, can clearly communicate my message?
Develop a sense of timing and watch your tone of voice. Most everyone accepts the value of a positive tone of voice. Yet when some people read the word timing, they assume it means delay. Timing doesn't always mean delay. There are times you can't or shouldn't delay a conversation. However, timing can also mean the pace of your speech. The faster you speak in tough moments, the more brutal it sounds. Meanwhile, speaking too slowly or softly can sound patronizing. A normal, even pace of speech communicates honesty and avoids bluntness. This leads and sustains morale.
Think agreement. Thinking about finding common ground reduces your bluntness. Replace negative emotion with positive desire. Ask for what you want instead of railing on about what you don't want. It transforms your communication from hurtful and blunt to honest and positive. Helpful honesty produces a yes; insults rarely do. Even if agreement is not your goal, think "yes" and your words will be helpfully honest vs. brutally blunt.
The question people often ask me: Are there people with whom you must be brutally blunt? No. I have met people who don't understand subtle communication. In those moments, I am much more direct but not brutally blunt. There is a big difference! I still show them respect and courtesy while I get to the point sooner and with more direct language. Respect is the key to being honest instead of blunt. It honors people as well as your message. If you disagree, state your view with calmness and respect for others.
To be clear, courtesy doesn't mean lack of honesty. They go hand in hand in sustaining morale.
Copyright © 2018 Kate Nasser, CAS, Inc. All rights reserved.
Do You Tend to Be Brutally Blunt or Helpfully Honest?
Please leave a comment and tell us what you think or share it with someone who can benefit from the information.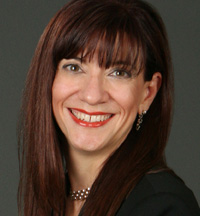 Kate Nasser, The People Skills Coach™, is a thirty-year workplace-tested consultant who continues to advise leaders and teams throughout the world on high morale and service for top performance. She is a highly sought-after speaker because she brings morale issues to life and delivers solutions. Now, in her first book, Leading Morale: The People Skills to Stop Negativity & Ignite Contributions, she offers everyone the intersection of research and practical experience to lead morale instead of taking it for granted and scurrying to fix it later.
Additional Reading:
Criticism Is Not Feedback
May I have a Word with You?
Ways to Say You Care
If you like this article, subscribe to our blog so that you don't miss a single post. Get future posts by RSS feed, email or Facebook. It's FREE.
Save
Save