The world is changing at a blistering pace. But just because you intellectually understand that "the only constant in life is change" doesn't mean that you can be an effective leader. The truth is that many change-management efforts fail simply because the vital human component is underappreciated, when in fact it is at the heart of change. As Dr. Rodger Dean Duncan says, "Change is not the enemy. The enemy is poor management of change." Are you struggling to lead change? This post is an excerpt from his excellent, internationally bestselling book CHANGE-friendly LEADERSHIP. As you read this, remember: If you ram change down people's throats, you'll choke on the results.
Dr. Rodger Dean Duncan is uniquely qualified to help you navigate change effectively. He has been a journalist and a university professor, has worked on Wall Street, served in two White House administrations, advised several U.S. senators, and headed worldwide communications at Campbell Soup Company. His Ph.D., from Purdue University, is in organizational behavior.
It is important to mention that I do not accept, nor did I receive, any benefit for my endorsement. My sole purpose for publishing this piece is to share a valuable resource with you.
–– Frank Sonnenberg
Are You Struggling to Lead Change? Try This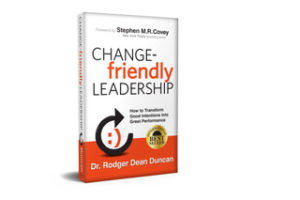 When our children were very young, my wife and I took the family on a cross-country trip. Several days in the close quarters of a car can be challenging, especially when many of the conversations begin with the question "Are we there yet?" So, we carefully planned every detail of the journey.
For each of our various stops along the way, we reserved a room at a Howard Johnson hotel. We knew that all across the country these hotels were decorated with exactly the same wall colors, lamps, and bedspreads. To help our children feel more "at home" every night, we even specified that each room must have the beds on the right and the TV on the left. Sameness, we reasoned, would be comforting.
The trip seemed to be going well. The children were patient, and the parents were still relatively sane. Then on the third night, we checked into yet another Howard Johnson hotel. As soon as we walked into our room— which was identical to the others we'd slept in that week — our four-year-old son threw up his hands and with a tone of utter despair said, "We've been driving forever and we keep coming back to the same place!"
That's exactly what change can feel like. Despite your best efforts, some people will continue to ask, "Are we there yet?" Some won't mind taking a trip, just not in the direction you're headed. Others will resist getting in the car at all.
For most people, change is a big deal. Change can involve the adoption of new technologies, reengineering, mergers and acquisitions, restructuring, culture blending, or any of a number of other forms. Change is a big deal because it often requires leaving our comfort zones. Change is a big deal because it touches on our sentiments and devotions, some of which may not be apparent even to us.
Feelings Are at the Core
The big deal about change is usually not about strategy or structure or systems. All of those things are of course important. But the core of it all is feelings. In the world of human commerce, nothing changes unless and until people's behaviors change. And the kind of behavior change that results in lasting (sustainable) change must accommodate people's feelings — feelings that involve trust, confidence, passion, and all those other intangible but very real things that make us human.
Change takes us out of our comfort zones and produces stress. It's often the stress that people resist, not the change itself. Even positive change produces stress. Just ask anyone who's planned a wedding.
We live in a moment of history where change is so fast-paced we begin to see the present only when it's already disappearing. Change is not just faster. It's also exploding in quantity and magnitude. Experts say we can expect more change in our lifetimes than has occurred since the beginning of civilization. Trying to keep up with change can feel like getting trapped on a runaway treadmill.
Change is not the enemy. The enemy is poor management of change.
One challenge of managing change is that it's often regarded as a linear sequence when it's in fact more of an organic process.
Success with change is less like installing an air conditioner and more like growing a garden. Success with change is less like engineering an event and more like navigating a journey. Success with change does require skill with "organizational" things like adjustment of priorities and redeployment of resources. But even more importantly, success with change requires skill with the "people stuff"— challenging paradigms, conducting honest dialogue, earning and keeping trust, and collaborating in ways that foster enthusiasm, ingenuity, and real synergy.
Change-friendly: It Really Works
A tried-and-true approach — one that produces excellent results — is what I call "Change-friendly." Change-friendly is all about the "people stuff."
In this context, "friendly" is not intended to connote coddling or laissez-faire. And it's certainly not intended to imply a warm and fuzzy, hands-off approach to serious issues. Change-friendly is a behavioral protocol. It produces successful change by acknowledging the sentiments and leveraging the individual gifts of people affected by the change, whether as Champions, Agents, Sponsors, or Targets (End-users). Being Change-friendly operates from a platform of respect and caring, not intimidation and contention.
Change-friendly is also about leadership. Not leadership by title and certainly not leadership by command or control. Change-friendly is about leadership that engages the heads, hearts, and hopes of the people whose genuine "buy in" is critical to the success of the change.
Effective leadership is a challenge under the best of circumstances. It's especially so in an environment of change and transition. People are unsure about the future, and this ambiguity feeds the aversion to risk. In such an atmosphere, people need a shepherd, not a sheep herder. They need comfort and confident direction, not a drill sergeant.
Whether you operate in a large corporation, in a small company, or in a non-profit organization, CHANGE-friendly IMPLEMENTATION can help you navigate change successfully. Why settle for less?
The above is an excerpt from CHANGE-friendly LEADERSHIP by Dr. Rodger Dean Duncan.
Also from Dr. Duncan: CHANGE-friendly IMPLEMENTATION, which has been used successfully in a wide range of settings in multiple industries, is now available as an online course. (Click here to learn more about the course.)
Are You Struggling to Lead Change?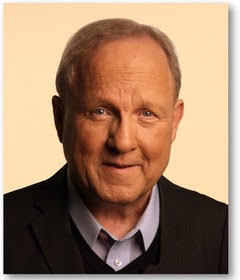 Dr. Rodger Dean Duncan is author of the award-winning, internationally bestselling book CHANGE-friendly LEADERSHIP. He's widely known for his expertise in leadership and in the strategic management of change — for individuals as well as for organizations. His client roster ranges from airlines, banks, and engineering firms to high-tech companies, nuclear power stations, and presidential cabinet officers in two White House administrations.
Dr. Duncan's work has been featured in The Washington Post; Inc. magazine; PBS; and other major media. He's a regular contributor to Forbes.com, a platform that reaches 75 million people each month, and his leadership blog has opt-in subscribers in more than 150 countries.
In addition to his decades of consulting and coaching work, Dr. Duncan was head of global communications at Campbell Soup Company and has served on the faculties of three leading universities.
Please leave a comment and tell us what you think or share it with someone who can benefit from the information.
Additional Reading:
You Can't Force People to Change
Counterfeit Leadership
You Can't Force People to Care
5 Qualities of Great Leaders
Thanks for a Job Well Done
Silence…Now Hear This
If you like this article, subscribe to our blog so that you don't miss a single post. Get future posts by RSS feed, email or Facebook. It's FREE.