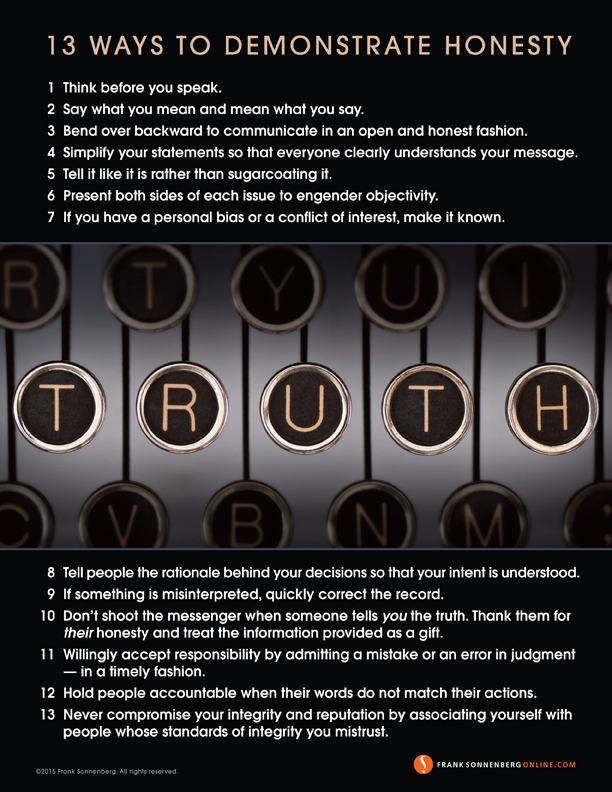 Truth Be Told: 13 Ways to Demonstrate Honesty
Think before you speak.
Say what you mean and mean what you say.
Bend over backward to communicate in an open and honest fashion.
Simplify your statements so that everyone clearly understands your message.
Tell it like it is rather than sugarcoating it.
Present both sides of each issue to engender objectivity.
If you have a personal bias or a conflict of interest, make it known.
Tell people the rationale behind your decisions so that your intent is understood.
If something is misinterpreted, quickly correct the record.
Don't shoot the messenger when someone tells you the truth. Thank them for their honesty and treat the information provided as a gift.
Willingly accept responsibility by admitting a mistake or an error in judgment — in a timely fashion.
Hold people accountable when their words do not match their actions.
Never compromise your integrity and reputation by associating yourself with people whose standards of integrity you mistrust.

This is adapted from Follow Your Conscience: Make a Difference in Your Life & in the Lives of Others By Frank Sonnenberg © 2014 Frank Sonnenberg. All rights reserved.
Additional Reading:
Honesty: The Plain and Simple Truth
A Promise is a Promise
50 Ways to Lose Trust and Credibility
The Values on Which Trust Rests
If you like this article, subscribe to our blog so that you don't miss a single post. Get future posts by RSS feed, email or Facebook. It's FREE. Click your favorite option (top right).