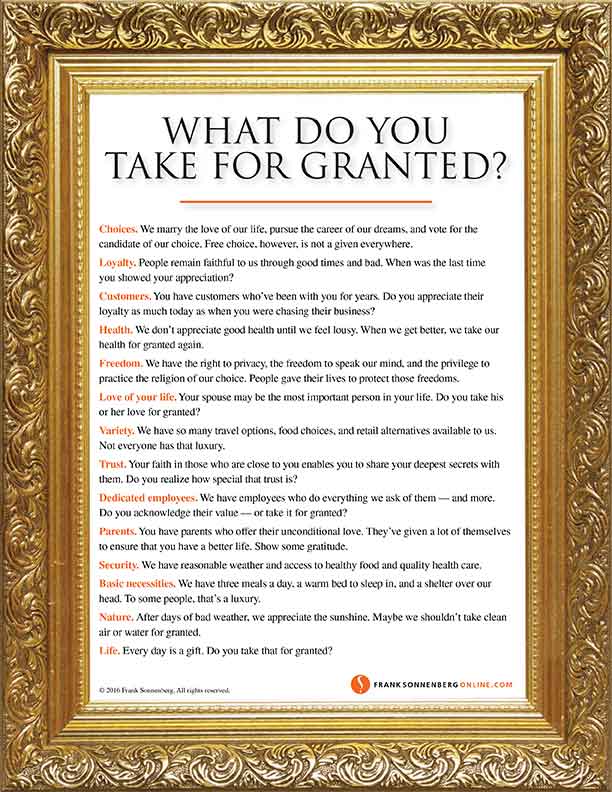 [pinit count="horizontal"]
What Do You Take For Granted?
Are you grateful for the life that you have? Or do you take things for granted? The problem is, when you take people or things for granted, you put them in jeopardy. It's not enough to make up for neglect after they've slipped away. It's important to be grateful every day for the wonderful things in your life. Think of this as a wake-up call. What do you take for granted?
Choices. We marry the love of our life, pursue the career of our dreams, and vote for the candidate of our choice. Free choice, however, is not a given everywhere.
Loyalty. People remain faithful to us through good times and bad. When was the last time you showed your appreciation?
Customers. You have customers who've been with you for years. Do you appreciate their loyalty as much today as when you were chasing their business?
Health. We don't appreciate good health until we feel lousy. When we get better, we take our health for granted again.
Freedom. We have the right to privacy, the freedom to speak our mind, and the privilege to practice the religion of our choice. People gave their lives to protect those freedoms.
Love of your life. Your spouse may be the most important person in your life. Do you take his or her love for granted?
Variety. We have so many travel options, food choices, and retail alternatives available to us. Not everyone has that luxury.
Trust. Your faith in those who are close to you enables you to share your deepest secrets with them. Do you realize how special that trust is?
Dedicated employees. We have employees who do everything we ask of them –– and more. Do you acknowledge their value –– or take it for granted?
Parents. You have parents who offer their unconditional love. They've given a lot of themselves to ensure that you have a better life. Show some gratitude.
Security. We have reasonable weather and access to healthy food and quality healthcare.
Basic necessities. We have three meals a day, a warm bed to sleep in, and a shelter over our head. To some people, that's a luxury.
Nature. After days of bad weather, we appreciate the sunshine. Maybe we shouldn't take clean air or water for granted.
Life. Every day is a gift. Do you take that for granted?
What Do You Think?
Please leave a comment and tell us what you think or share it with someone who can benefit from the information.
Additional Reading:
There's More to Friendship than Friending
It's the Little Things That Count
Losing Trust: The Warning Signs
If you like this article, subscribe to our blog so that you don't miss a single post. Get future posts by RSS feed, email or Facebook. It's FREE.
Save
Save
Save
Save
Save