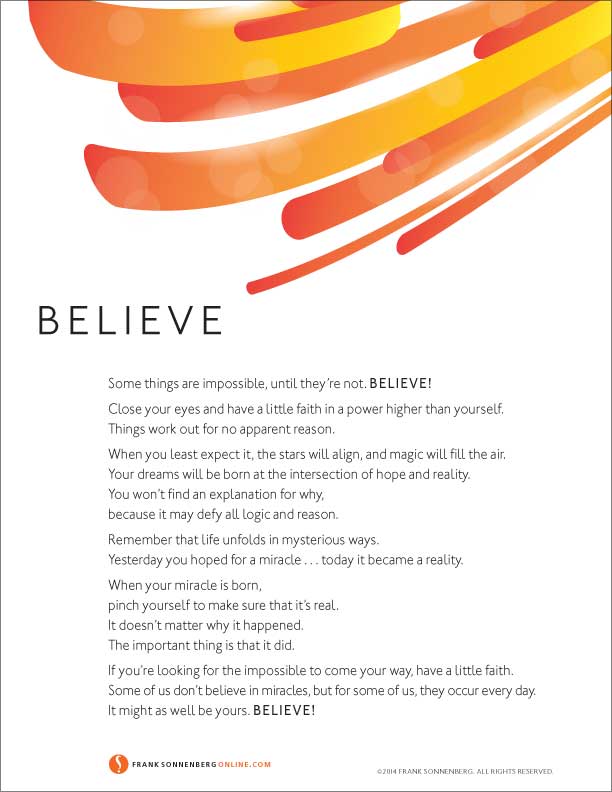 [pinit count="horizontal"]
Believe
Some things are impossible, until they're not. BELIEVE!
Close your eyes and have a little faith in a power higher than yourself. Things work out for no apparent reason.
When you least expect it, the stars will align, and magic will fill the air. Your dreams will be born at the intersection of hope and reality.
You won't find an explanation for why, because it may defy all logic and reason.
Remember that life unfolds in mysterious ways. Yesterday you hoped for a miracle . . . today it became a reality.
When your miracle is born, pinch yourself to make sure that it's real. It doesn't matter why it happened. The important thing is that it did.
If you're looking for the impossible to come your way, have a little faith. Some of us don't believe in miracles, but for some of us, they occur every day. It might as well be yours. BELIEVE!
Do You Believe?
Additional Reading:
The Power of a Positive Attitude
Promise Yourself
A New Day
Make Every Moment Matter
25 Inspirational Quotes to Live By
Impossible Is Always Possible
Own Your Life!
If you like this poster, subscribe to our blog so that you don't miss a single post. Get future posts by RSS feed, email or Facebook. It's FREE. Click your favorite option (top right).