Happily Ever After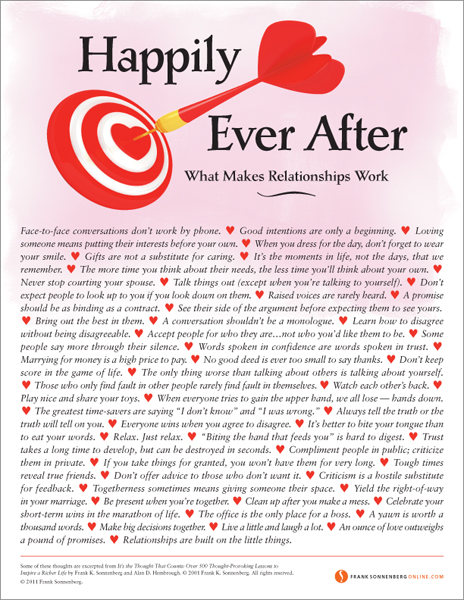 [pinit count="horizontal"]
Happily Ever After
Face-to-face conversations don't work by phone. • Good intentions are only a beginning. • Loving someone means putting their interests before your own. • When you dress for the day, don't forget to wear your smile. • Gifts are not a substitute for caring. • It's the moments in life, not the days, that we remember. • The more time you think about their needs, the less time you'll think about your own. • Never stop courting your spouse. • Talk things out (except when you're talking to yourself). • Don't expect people to look up to you if you look down on them. • Raised voices are rarely heard. • A promise should be as binding as a contract. • See their side of the argument before expecting them to see yours. • Bring out the best in them. • A conversation shouldn't be a monologue. • Learn how to disagree without being disagreeable. • Accept people for who they are…not who you'd like them to be. • Some people say more through their silence. • Words spoken in confidence are words spoken in trust. • Marrying for money is a high price to pay. • No good deed is ever too small to say thanks. • Don't keep score in the game of life. • The only thing worse than talking about others is talking about yourself. • Those who only find fault in other people rarely find fault in themselves. • Watch each other's back. • Play nice and share your toys. • When everyone tries to gain the upper hand, we all lose — hands down. • The greatest time-savers are saying "I don't know" and "I was wrong." • Always tell the truth or the truth will tell on you. • Everyone wins when you agree to disagree. • It's better to bite your tongue than to eat your words. • Relax. Just relax. • "Biting the hand that feeds you" is hard to digest. • Trust takes a long time to develop, but can be destroyed in seconds. • Compliment people in public; criticize them in private. • If you take things for granted, you won't have them for very long. • Tough times reveal true friends. • Don't offer advice to those who don't want it. • Criticism is a hostile substitute for feedback. • Togetherness sometimes means giving someone their space. • Yield the right-of-way in your marriage. • Be present when you're together. • Clean up after you make a mess. • Celebrate your short-term wins in the marathon of life. • The office is the only place for a boss. • A yawn is worth a thousand words. • Make big decisions together. • Live a little and laugh a lot. • An ounce of love outweighs a pound of promises. • Relationships are built on the little things.
Please leave a comment and tell us what you think or share it with someone who can benefit from the information.
Additional Reading:
20 Ingredients of a Marriage Made in Heaven
Good Relationships Don't Keep Score
If you like this poster, subscribe to our blog so that you don't miss a single post. Get future posts by RSS feed, email or Facebook. It's FREE. Click your favorite option (top right).