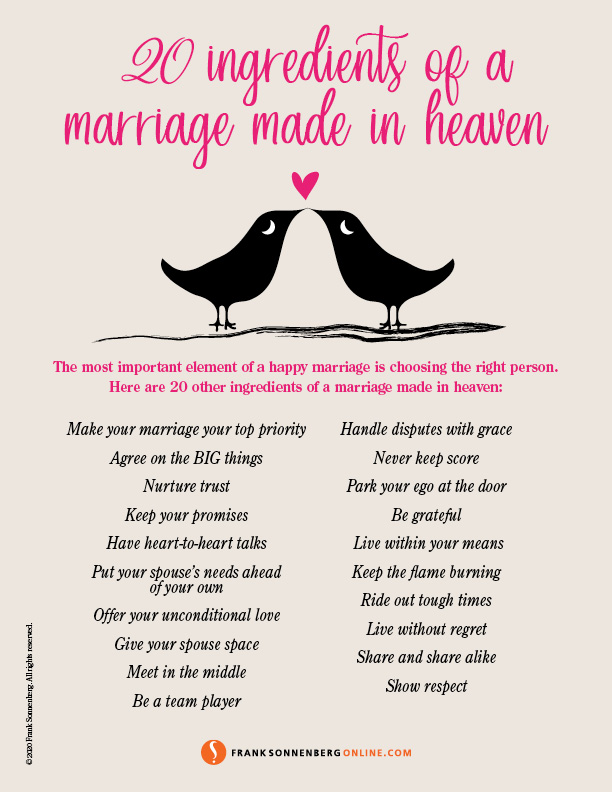 [pinit count="horizontal"]
20 Ingredients of a Marriage Made in Heaven
The most important element of a happy marriage is choosing the right person. Here are 20 other ingredients of a marriage made in heaven:
Make your marriage your top priority. There are many things vying for your attention. Know what matters most to you and put your heart into it.
Agree on the BIG things. Shared beliefs and values form the heart of every successful relationship and can ultimately determine its success. The key is to understand your spouse's viewpoints and gain agreement on how to move forward together.
Nurture trust. Trust is the glue that binds successful relationships. Trust is built through a series of successful experiences. If each encounter is positive, the relationship will flourish.
Keep your promises. When you break a promise, no matter how small, you violate the bond of trust. Remember, trust takes a long time to develop, but it can be lost in the blink of an eye.
Have heart-to-heart talks. Say what's on your mind and in your heart. Be open, honest, and empathetic. If something is bothering you, don't let it fester. Speak your mind. And remember, don't just talk…communicate.
Put your spouse's needs ahead of your own. Care about your spouse's happiness as much, or more, than your own. It's an important ingredient of a marriage made in heaven.
Offer your unconditional love. Accept your spouse for who he or she is, not for who you want him or her to be.
Give your spouse space. Cherish your time together, but give your spouse the freedom to have his or her space.
Meet in the middle. Seek compromise rather than forcing your views on your spouse. Remember, the relationship is always more important than the disagreement.
Be a good sport. Be your own person, but don't forget that you're part of a team. Complement each other's skills and grow in the same direction.
Handle disputes with grace. Debate issues without making them personal. Once words leave your mouth, they can't be taken back.
Never keep score. Marriage is not a competitive sport. It doesn't matter who contributes more at any given time. It evens itself out over time. (And if it doesn't, who cares?)
Park your ego at the door. The two greatest time-savers are saying "I don't know" and "I was wrong."
Be grateful. Show your appreciation. Never take your spouse for granted.
Live within your means. Finances are a key source of stress in a marriage. Be conscious of your spending habits. Focus on what you need rather than on what you want.
Keep the flame burning. Keep courting your spouse. Love, laugh, and create lasting memories.
Ride out tough times. In the course of life, you will face rough patches. A crisis doesn't have to breed hostility — it often brings couples closer together.
Live without regret. Think long and hard before you do anything that places your relationship in jeopardy.
Share and share alike. Life is more rewarding when you share your life with someone you love. That means changing your mindset from "me" to "we" and to "what's mine is now ours."
Show respect. While trust, respect, and devotion may be invisible, you'll know that they're present. They form the foundation of a marriage made in heaven.
What Are Your Thoughts on A Marriage Made in Heaven?
Please leave a comment and tell us what you think or share it with someone who can benefit from the information.
Additional Reading:
Good Relationships Don't Keep Score
Do You Deserve to Be Trusted?
A Promise Is a Promise
Honesty: The Plain and Simple Truth
Do You Take It for Granted?
You Can't Force People to Change
How to Improve Your Conversation Skills – 10 Valuable Tips
Compromise: Redefining Winning
If you like this article, subscribe to our blog so that you don't miss a single post. Get future posts by RSS feed, email or Facebook. It's FREE.