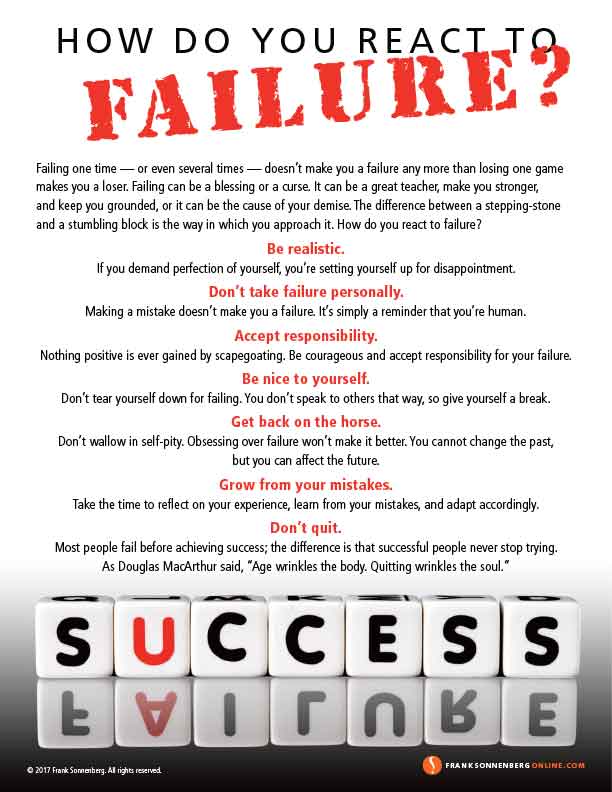 [pinit count="horizontal"]
How Do you React to Failure?
Failing one time — or even several times — doesn't make you a failure any more than losing one game makes you a loser. Failing can be a blessing or a curse. It can be a great teacher, make you stronger, and keep you grounded, or it can be the cause of your demise. The difference between a stepping-stone and a stumbling block is the way in which you approach it. How do you react to failure?
Be realistic. If you demand perfection of yourself, you're setting yourself up for disappointment.
Don't take failure personally. Making a mistake doesn't make you a failure. It's simply a reminder that you're human.
Accept responsibility. Nothing positive is ever gained by scapegoating. Be courageous and accept responsibility for it.
Be nice to yourself. Don't tear yourself down for failing. You don't speak to others that way, so give yourself a break.
Get back on the horse. Don't wallow in self-pity. Obsessing over failure won't make it better. You cannot change the past, but you can affect the future.
Grow from your mistakes. Take the time to reflect on your experience, learn from your mistakes, and adapt accordingly.
Don't quit. Most people fail before achieving success; the difference is that successful people never stop trying. As Douglas MacArthur said, "Age wrinkles the body. Quitting wrinkles the soul."
Failing should be viewed as a hurdle rather than a roadblock. Successful people aren't discouraged by it. They know that every worthwhile goal carries some element of disappointment. Failure is a challenge to be overcome, a test to defy your will, and in the end, a learning opportunity. For others, it is viewed negatively as an opportunity to feel sorry and complain, a reason to belittle oneself, and an excuse to give up too quickly. It's your choice. Your view of failure determines your reality. As Zig Ziglar said, "Remember that failure is an event, not a person." You're not a failure unless you make yourself one.
Do You View It As A Hurdle Or a Roadblock?
Please leave a comment and tell us what you think or share it with someone who can benefit from the information.
Additional Reading:
The Biggest Mistake, Ever!
The Blame Game
How to Destroy Creativity and Innovation
If you like this article, subscribe to our blog so that you don't miss a single post. Get future posts by RSS feed, email or Facebook. It's FREE.
Save
Save
Save
Save
Save