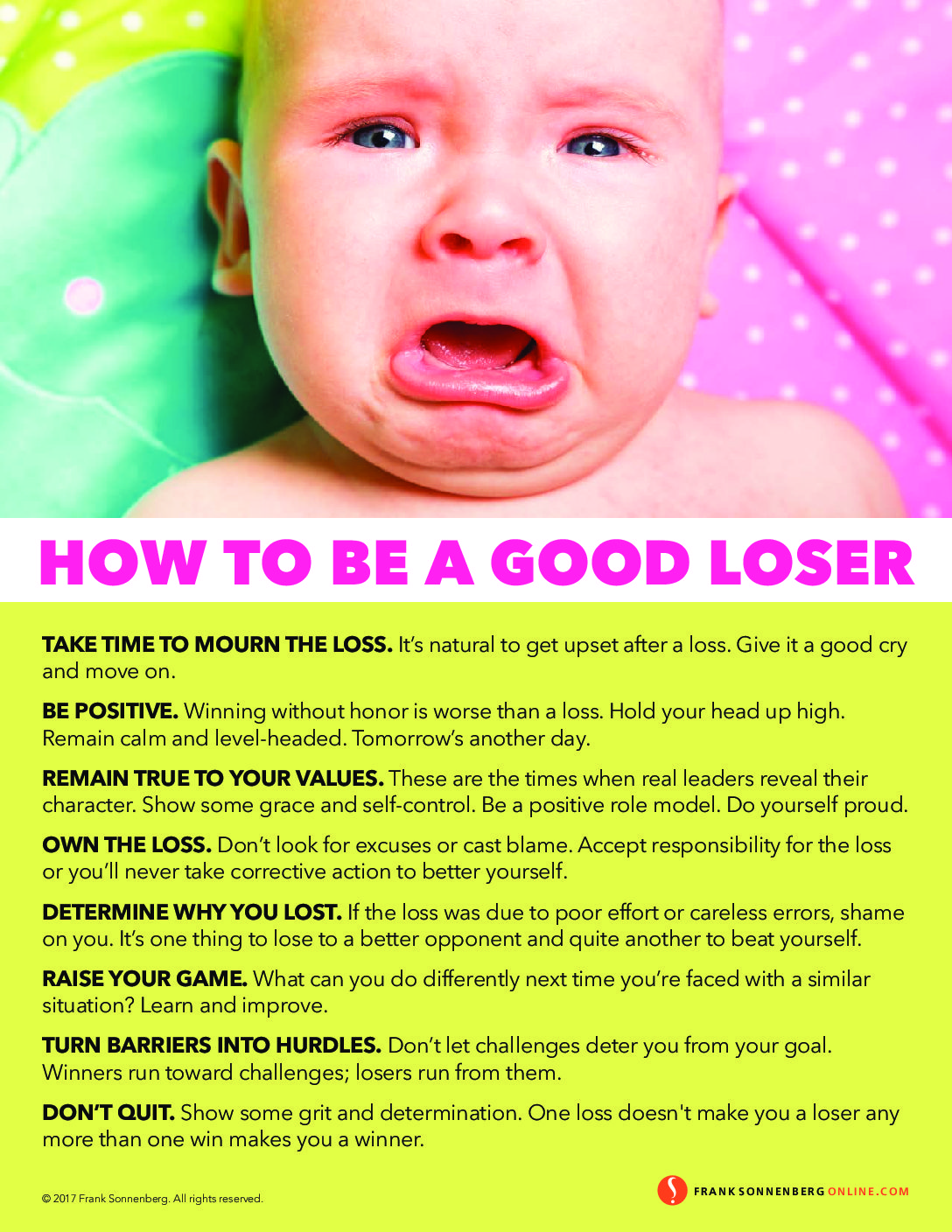 [pinit count="horizontal"]
No one wants to lose, but it's an important part of life. Losing makes you self-reliant; it's an opportunity to accept responsibility for your own destiny. Losing builds confidence and makes you strong; it inspires you to weather setbacks in the future. Losing teaches you humility; it keeps you grounded. Losing provides valuable lessons; it proves that no matter how good you are, you can always become better. Losing fosters determination; it proves that when you're steadfast, you can overcome almost any challenge in life. Last, but not least, losing builds character. Are you a good loser?
8 Ways to Be a Good Loser
Your ability to maintain a positive attitude, learn, and move forward will determine whether you win or lose in the future. Here are eight guidelines to consider:
Take time to mourn the loss. It's natural to get upset after a loss. Give it a good cry and move on.
Be positive. Winning without honor is worse than a loss. Hold your head up high. Remain calm and level-headed. Tomorrow's another day.
Remain true to your values. These are the times when real leaders reveal their character. Show some grace and self-control. Be a positive role model. Do yourself proud.
Own the loss. Don't look for excuses or cast blame. Accept responsibility for the loss or you'll never take corrective action to better yourself.
Determine why you lost. If the loss was due to poor effort or careless errors, shame on you. It's one thing to lose to a better opponent and quite another to beat yourself.
Raise your game. What can you do differently next time you're faced with a similar situation? Learn and improve.
Turn barriers into hurdles. Don't let challenges deter you from your goal. Winners run toward challenges; losers run from them.
Don't quit. Show some grit and determination. One loss doesn't make you a loser any more than one win makes you a winner. As Norman Cousins, the political journalist, said, "Death is not the greatest loss in life. The greatest loss is what dies inside us while we live."
As Chilon of Sparta, one of the "Seven Sages of Greece," said, "Prefer a loss to a dishonest gain; the one brings pain at the moment, the other for all time." The bottom line is that you can lose and still come out a winner. Think about it…what do you stand to lose?
This post was adapted from BOOKSMART: Hundreds of real-world lessons for success and happiness, released November, 2016 © 2017 Frank Sonnenberg. All rights reserved.
What Do You Think?
Please leave a comment and tell us what you think or share it with someone who can benefit from the information.
Additional Reading:
My Kid the Superstar
How to Lose and Still Come Out a Winner
Good Times Build Confidence … Bad Times Build Character
9 Powerful Reasons Why Your Moral Character Matters
The Winner's Edge
Promise Yourself
If you like this article, subscribe to our blog so that you don't miss a single post. Get future posts by RSS feed, email or Facebook. It's FREE.
Save
Save
Save
Save
Save
Save
Save
Save
Save
Save
Save
Save
Save
Save