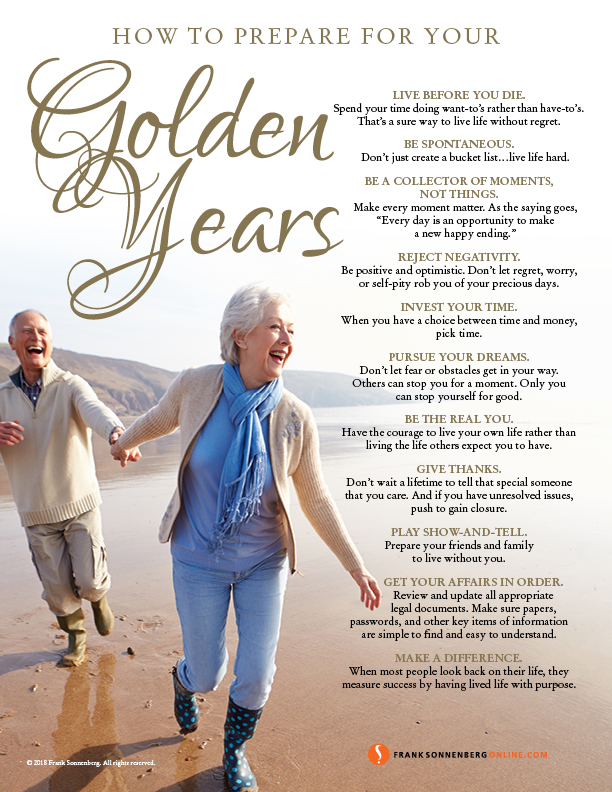 [pinit count="horizontal"]
How to Prepare for Your Golden Years
One of the things that we don't like to discuss is that we're all getting older. In fact, many of us believe that if we ignore this reality, it might go away. The problem is, failing to prepare for your golden years may lead to regret — never mind adding an extra burden on family members and friends. Here are 11 guidelines to consider:
Live before you die. Spend your time doing want-to's rather than have-to's. That's a sure way to live life without regret. As was said in the movie Braveheart, "Every man dies. Not every man really lives."
Be spontaneous. Don't just create a bucket list…live life hard. I know someone who waited too long and then was unable to fulfill her dreams.
Be a collector of moments, not things. Make every moment matter. As the saying goes, "Every day is an opportunity to make a new happy ending."
Reject negativity. Be positive and optimistic. Don't let regret, worry, or self-pity rob you of your precious days.
Invest your time. When you have a choice between time and money, pick time.
Pursue your dreams. Don't let fear or obstacles get in your way. Others can stop you for a moment. Only you can stop yourself for good.
Be the real you. Have the courage to live your own life rather than living the life others expect you to have. As the saying goes, "Be who you are and say what you feel because those who mind don't matter and those who matter don't mind."
Give thanks. Don't wait a lifetime to tell that special someone that you care. And if you have unresolved issues, push to gain closure.
Play show-and-tell. Prepare your friends and family to live without you. You've always been there for your friends and family. Ensure that you'll be there, in spirit, when you're gone.
Get your affairs in order. Review and update all appropriate legal documents. Make sure papers, passwords, and other key items of information are simple to find and easy to understand.
Make a difference. When most people look back on their life, they measure success by having lived life with purpose. It gives them great pleasure that they gave back more than they received.
Are You Preparing for Your Golden Years?
Please leave a comment and tell us what you think or share it with someone who can benefit from the information.
Additional Reading:
Moments Lost
Make Time: There's No Dress Rehearsal in Life
Make Every Moment Matter
You May Regret Not Reading This
If you like this article, subscribe to our blog so that you don't miss a single post. Get future posts by RSS feed, email or Facebook. It's FREE.