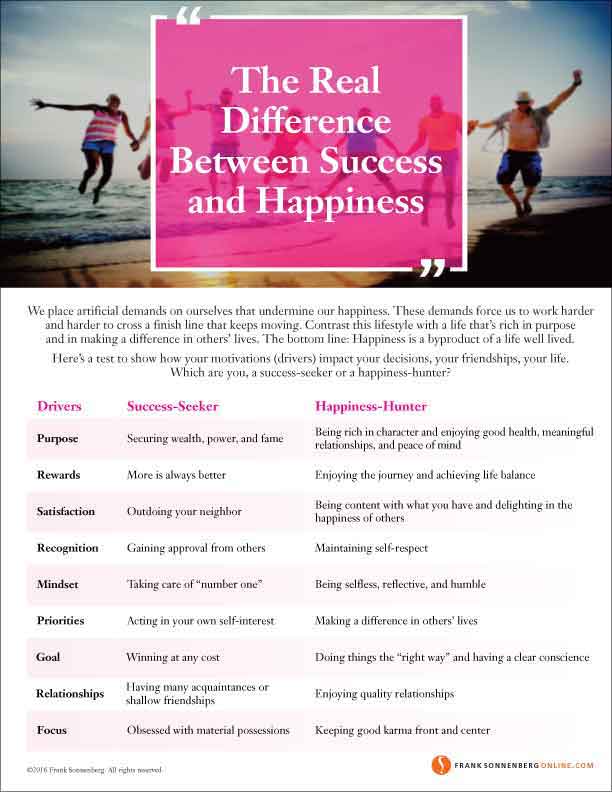 [pinit count="horizontal"]
The Real Difference Between Success and Happiness
Imagine…you've catapulted yourself to the top of your organization and reached the pinnacle of success. You own a luxurious house, take lavish vacations, and socialize with the rich and famous –– most people would give anything to walk in your shoes. But even though you've achieved success beyond your wildest dreams, have you found happiness? The truth is, there is a difference between success and happiness.
Some people assume that achieving greater success or accumulating material wealth automatically leads to happiness, but nothing can be further from the truth. While buying an expensive house, closing a deal, or securing a promotion can provide satisfaction, these achievements often deliver only temporary happiness. In fact, many people pause only briefly after reaching a goal…before setting their eyes on the next prize. The truth is, many people are never really happy unless they are winning, and when the winning stops…well, you guessed it…like an addiction, they need (or should I say, want) more.
The truth is, we place artificial demands on ourselves that undermine our happiness. These demands force us to work harder and harder to cross a finish line that keeps moving. Contrast this lifestyle with a life that's rich in purpose and in making a difference in others' lives. The bottom line: Happiness is a byproduct of a life well lived. How does that make you feel?
The Gap Between Success and Happiness
Striving for material abundance won't create lasting happiness as much as leading a meaningful life will. Here's a test to show how your motivations (drivers) impact your decisions, your friendships, your life. Which are you, a success-seeker or a happiness-hunter? You may be surprised.
| Drivers | Success-Seeker | Happiness-Hunter |
| --- | --- | --- |
| Purpose | Securing wealth, power, and fame. | Being rich in character and enjoying good health, meaningful relationships, and peace of mind |
| Rewards | More is always better | Enjoying the journey and achieving life balance |
| Satisfaction | Outdoing your neighbor | Being content with what you have and delighting in the happiness of others |
| Recognition | Gaining approval from others | Maintaining self-respect |
| Mindset | Taking care of "number one" | Being selfless, reflective, and humble |
| Priorities | Acting in your own self-interest | Making a difference in others' lives |
| Goal | Winning at any cost | Doing things the "right way" and having a clear conscience |
| Relationships | Having many acquaintances or shallow friendships | Enjoying quality relationships |
| Focus | Obsessed with material possessions | Keeping good karma front and center |
How Do You View the Difference Between Success and Happiness?
Additional Reading:
Living Life With a Purpose
Moral Character Matters
Your Happiness Lies in the Balance
The Secret to True Happiness
If you like this article, subscribe to our blog so that you don't miss a single post. Get future posts by RSS feed, email or Facebook. It's FREE.