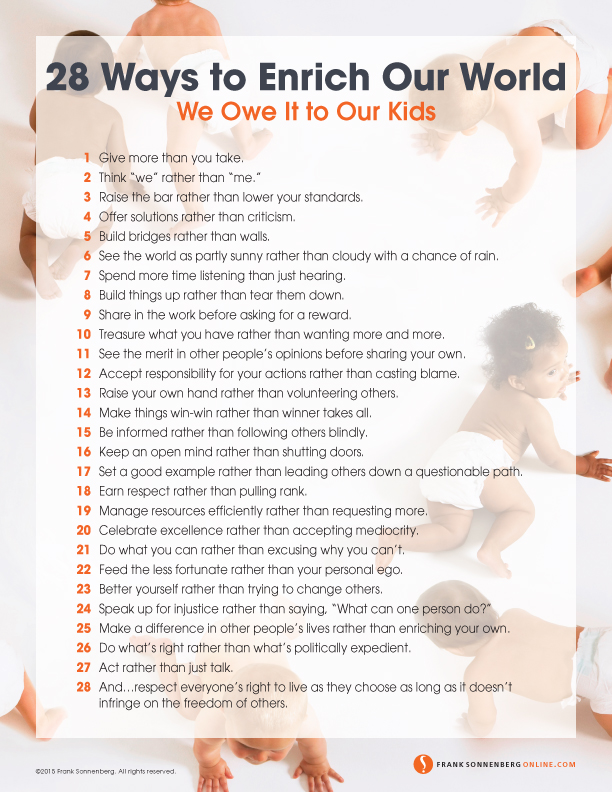 [pinit count="horizontal"]
It doesn't matter whether you're black or white, rich or poor, fat or thin, Christian or Muslim, male or female –– we all arrive and leave this world the same way. What makes us unique is how we live our special gift called life. And yet, even though we select different paths, we share a responsibility to respect everyone's choices, live in harmony, and leave the world better for future generations. My wish for the New Year is that we take that responsibility to heart. We owe it to our kids.
28 Ways to Enrich Our World
If you want to make the world –– or the world around you –– a better place to live, here are some good ways to start:
Give more than you take.
Think "we" rather than "me."
Raise the bar rather than lower your standards.
Offer solutions rather than criticism.
Build bridges rather than walls.
See the world as partly sunny rather than cloudy with a chance of rain.
Spend more time listening than just hearing.
Build things up rather than tear them down.
Share in the work before asking for a reward.
Treasure what you have rather than wanting more and more.
See the merit in other people's opinions before sharing your own.
Accept responsibility for your actions rather than casting blame.
Raise your own hand rather than volunteering others.
Make things win-win rather than winner takes all.
Be informed rather than following others blindly.
Keep an open mind rather than shutting doors.
Set a good example rather than leading others down a questionable path.
Earn respect rather than pulling rank.
Manage resources efficiently rather than requesting more.
Celebrate excellence rather than accepting mediocrity.
Do what you can rather than excusing why you can't.
Feed the less fortunate rather than your personal ego.
Better yourself rather than trying to change others.
Speak up for injustice rather than saying, "What can one person do?"
Make a difference in other people's lives rather than enriching your own.
Do what's right rather than what's politically expedient.
Act rather than just talk.
And … respect everyone's right to live as they choose as long as it doesn't infringe on the freedom of others.
If everyone tried to make this a better world … it would be. We owe it to our kids.
What Kind of World Do You Want Your Kids to Live In?
Additional Reading:
Ethics as usual
Character Matters
Are Role Models Becoming Extinct?
Follow Your Conscience
If you like this article, subscribe to our blog so that you don't miss a single post. Get future posts by RSS feed, email or Facebook. It's FREE. Click your favorite option (top right).