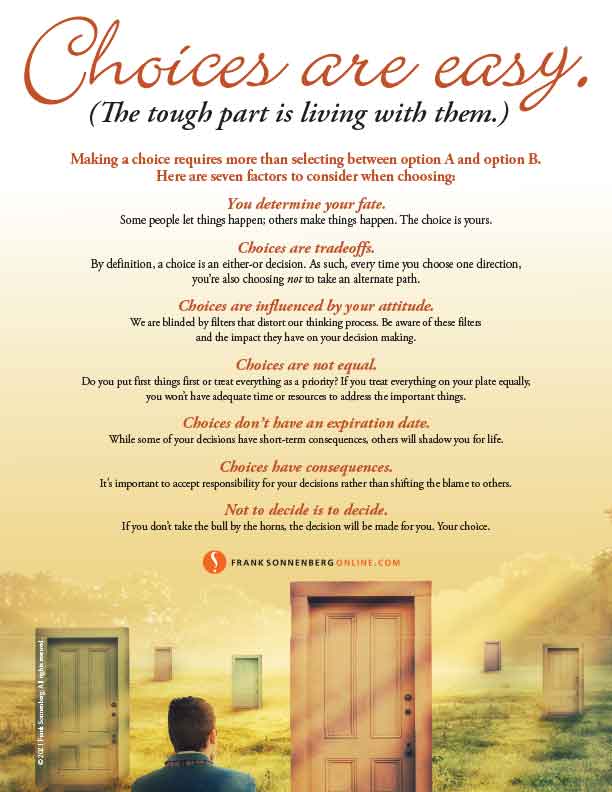 [pinit count="horizontal"]
Making a choice requires more than selecting between option A and option B. Choices are easy. The tough part is living with them. Here are seven factors to consider when choosing:
You determine your fate. Some people let things happen; others make things happen. The choice is yours.
Choices are tradeoffs. By definition, a choice is an either-or decision. As such, every time you choose one direction, you're also choosing not to take an alternate path. In other words, saying "no" to one idea enables you to say "yes" to another.
Choices are influenced by your attitude. Your view of the world can significantly impact the choices that you make. The fact is, we are blinded by filters that distort our thinking process. Be aware of these filters and the impact they have on your decision making.
Choices are not equal. Do you put first things first or treat everything as a priority? If you treat everything on your plate equally, you won't have adequate time or resources to address the important things.
Choices don't have an expiration date. Choices are easy. The tough part is living with them. While some of your decisions have short-term consequences, others will shadow you for life. That's why it's important to achieve balance between your short-term desires and your long-term goals.
Choices have consequences. Some days you'll make good choices; other times you won't. That's life. It's important to accept responsibility for your decisions rather than shifting the blame to others. Accepting responsibility will instill humility, boost self-reliance, and emphasize the importance of making good choices.
Not to decide is to decide. If you don't take the bull by the horns, the decision will be made for you. Your choice.
The future you get depends on the choices you make. Period. No one's going to force you to go to the gym, invest in your personal growth, or save for retirement. Additionally, you can choose to be an honest person, surround yourself with positive role models, and live a healthy lifestyle. Or you can choose an alternative path. The upshot is, you are bound by the consequences of your choices. It's your life; own it.
Choices Are Easy. Are You Having a Tough Time Living With Them?
Please leave a comment and tell us what you think or share it with someone who can benefit from the information.
Additional Reading:
7 Ways to Make Good Choices
The Easy Way May Be the Hard Way
Will You Choose the Right Path?
Are You Blurring the Line Between Right and Wrong?
Inner Peace is a Choice
Mediocre Behavior Is a Choice
If you like this article, subscribe to our blog so that you don't miss a single post. Get future posts by RSS feed, email or Facebook. It's FREE.