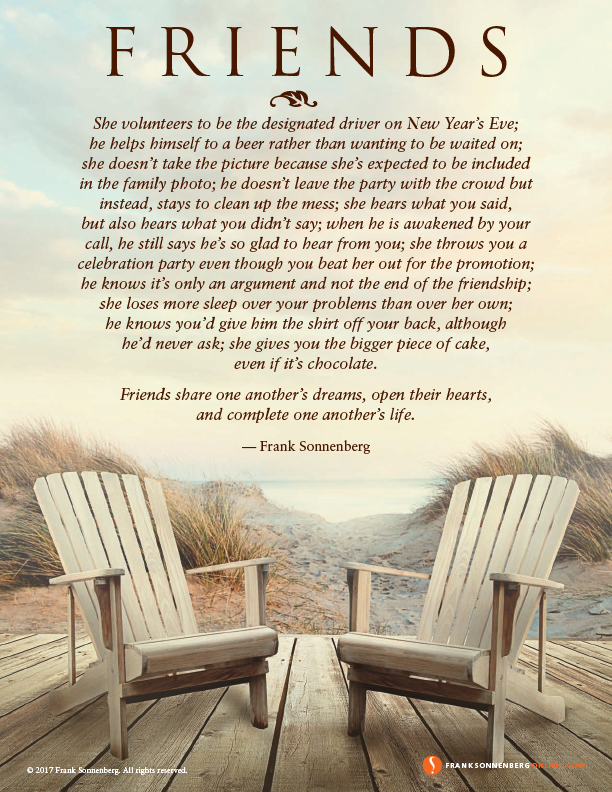 [pinit count="horizontal"]
Friends for Life
She volunteers to be the designated driver on New Year's Eve; he helps himself to a beer rather than wanting to be waited on; she doesn't take the picture because she's expected to be included in the family photo; he doesn't leave the party with the crowd but instead, stays to clean up the mess; she hears what you said, but also hears what you didn't say; when he is awakened by your call, he still says he's so glad to hear from you; she throws you a celebration party even though you beat her out for the promotion; he knows it's only an argument and not the end of the friendship; she loses more sleep over your problems than over her own; he knows you'd give him the shirt off your back, although he'd never ask; she gives you the bigger piece of cake, even if it's chocolate.
Friends share one another's dreams, open their hearts, and complete one another's life.
That's What Friends Are For. Are You a Good Friend?
Please leave a comment and tell us what you think or share it with someone who can benefit from the information.
Additional Reading:
Is Your Friend Really An Acquaintance?
There's More to Friendship Than Friending
The Secrets of a Successful Marriage
If you like this article, subscribe to our blog so that you don't miss a single post. Get future posts by RSS feed, email or Facebook. It's FREE.
Save
Save