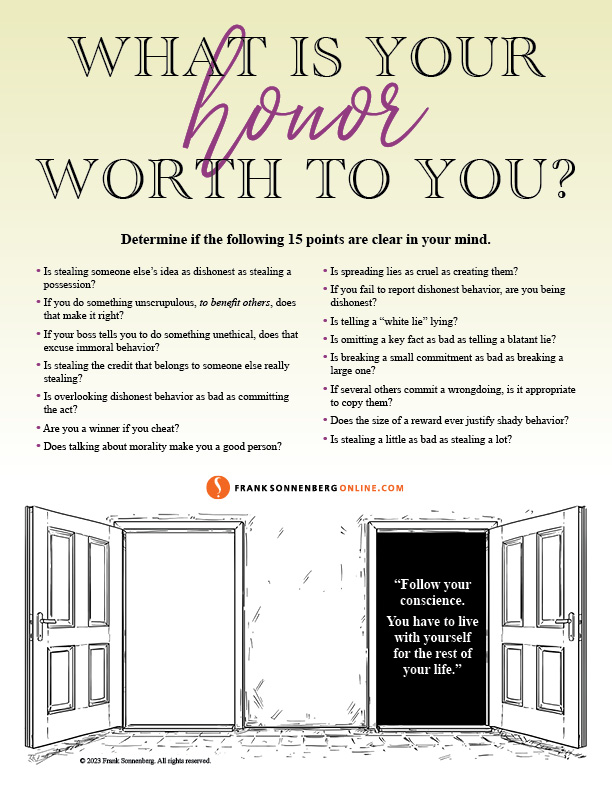 [pinit count="horizontal"]
Are You Honorable or Afraid of Getting Caught?
We are regularly faced with choices that fall in the gray area of moral behavior. Other times, our choices are clear as day. The truth is that selective morality is sinful. Are you honorable or afraid of getting caught? Determine if the following 15 points are clear in your mind.
Is stealing someone else's idea as dishonest as stealing a possession?
If you do something unscrupulous, to benefit others, does that make it right?
If your boss tells you to do something unethical, does that excuse immoral behavior?
Is stealing the credit that belongs to someone else really stealing?
Is overlooking dishonest behavior as bad as committing the act?
Are you a winner if you cheat?
Does talking about morality make you a good person?
Is spreading lies as cruel as creating them?
If you fail to report dishonest behavior, are you being dishonest?
Is telling a "white lie" lying?
Is omitting a key fact as bad as telling a blatant lie?
Is breaking a small commitment as bad as breaking a large one?
If several others commit a wrongdoing, is it appropriate to copy them?
Does the size of a reward ever justify shady behavior?
Is stealing a little as bad as stealing a lot?
What Is Your Honor Worth to You?
You're going to be tested throughout your life. You may be tempted to cheat to make yourself look good, stretch the truth to cover your behind, or do something unethical to get what you want. The challenge is that the right choice might not always be as clear as day. That's when your actions reveal your true character.
The prize for being honest is that, even though you may not win all the time, you'll be true to yourself and your values. What's that worth? Everything! It's not enough to be honorable because you're afraid of getting caught. It's important to be true to yourself and your values. Follow your conscience. You have to live with yourself for the rest of your life.
Check out Frank's latest book, The Path to a Meaningful Life.
Are You Honorable or Afraid of Getting Caught?
Please leave a comment and tell us what you think or share it with someone who can benefit from the information.
Additional Reading:
Are You Blurring the Line Between Right and Wrong?
Do You Choose Convenience Over Principles?
Truth Be Told: 13 Ways to Demonstrate Honesty
Knowing Isn't Doing
20 Choices that Will Determine Your Destiny
A Promise Is a Promise
Will You Choose the Right Path?
If you like this article, subscribe to our blog so that you don't miss a single post. Get future posts by RSS feed, email or Facebook. It's FREE.