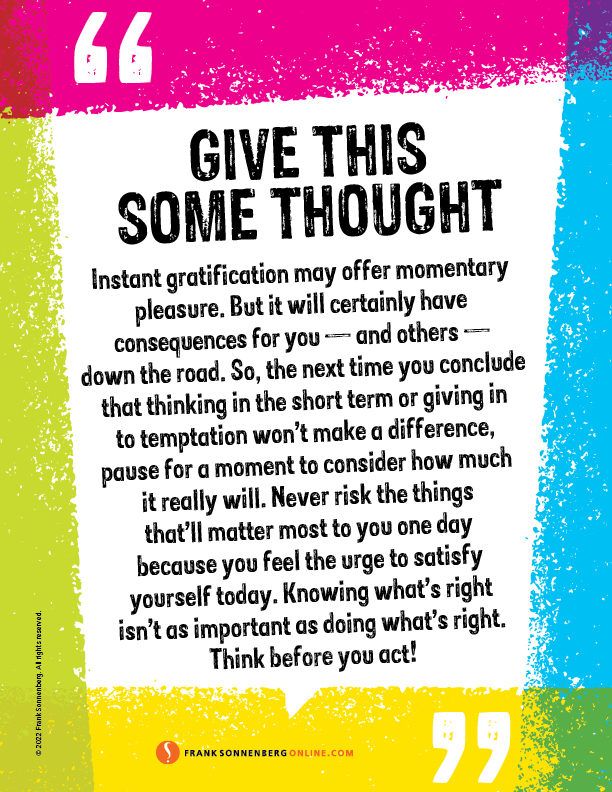 [pinit count="horizontal"]
Give This Some Thought
Instant gratification may offer momentary pleasure. But it will certainly have consequences for you — and others — down the road. So, the next time you conclude that thinking in the short term or giving in to temptation won't make a difference, pause for a moment to consider how much it really will. Never risk the things that'll matter most to you one day because you feel the urge to satisfy yourself today. Knowing what's right isn't as important as doing what's right. Think before you act!
Check out Frank's new book, The Path to a Meaningful Life.
Did This Give You Food For Thought?
Please leave a comment and tell us what you think or share it with someone who can benefit from the information.
Additional Reading:
Instant Gratification: Are You Selling Your Future Short?
Do You Choose Convenience Over Principles?
What Are Your Biggest Regrets in Life?
The Choice is Yours
Why Self-Discipline Should Matter to You
20 Choices That Will Determine Your Destiny
If you like this article, subscribe to our blog so that you don't miss a single post. Get future posts by RSS feed, email or Facebook. It's FREE.