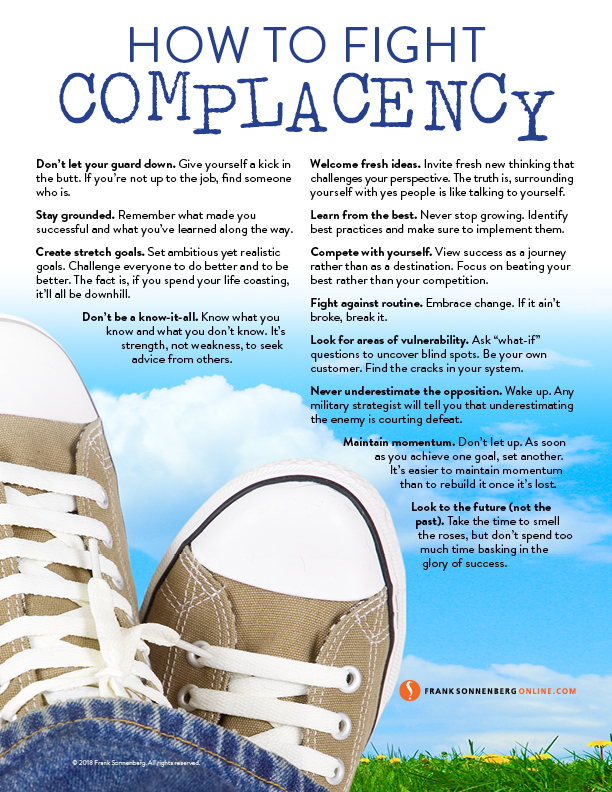 [pinit count="horizontal"]
How to Fight Complacency
You're at the top of your game. It appears nothing is going to stop you –– except you. Here are 12 ways to fight complacency:
Don't let your guard down. Give yourself a kick in the butt. If you're not up to the job, find someone who is.
Stay grounded. Remember what made you successful and what you've learned along the way.
Create stretch goals. Push your limits. Set ambitious yet realistic goals. Challenge everyone to do better and to be better. The fact is, if you spend your life coasting, it'll all be downhill.
Don't be a know-it-all. Know what you know and what you don't know. It's strength, not weakness, to seek advice from others.
Welcome fresh ideas. Invite fresh new thinking that challenges your perspective. The truth is, surrounding yourself with yes people is like talking to yourself.
Learn from the best. Never stop growing. Identify best practices and make sure to implement them.
Compete with yourself. View success as a journey rather than as a destination. Focus on beating your best rather than your competition. That way you'll always be growing and learning from the best in the field — yourself.
Fight against routine. Embrace change. If it ain't broke, break it.
Look for areas of vulnerability. Ask "what-if" questions to uncover blind spots. Be your own customer. Find the cracks in your system.
Never underestimate the opposition. Wake up. Any military strategist will tell you that underestimating the enemy is courting defeat.
Maintain momentum. Don't let up. As soon as you achieve one goal, set another. It's easier to maintain momentum than to rebuild it once it's lost.
Look to the future (not the past). Take the time to smell the roses, but don't spend too much time basking in the glory of success. As Andrew Grove, former CEO of Intel, said, "Success breeds complacency. Complacency breeds failure. Only the paranoid survive."
How Do You Fight Complacency?
Please leave a comment and tell us what you think or share it with someone who can benefit from the information.
Additional Reading:
Complacency: The Enemy of Success
Are You Coping with Success?
Be Humble: Don't Let Success Go to Your Head
If You're Not Proud, You're Not Done
If you like this article, subscribe to our blog so that you don't miss a single post. Get future posts by RSS feed, email or Facebook. It's FREE.