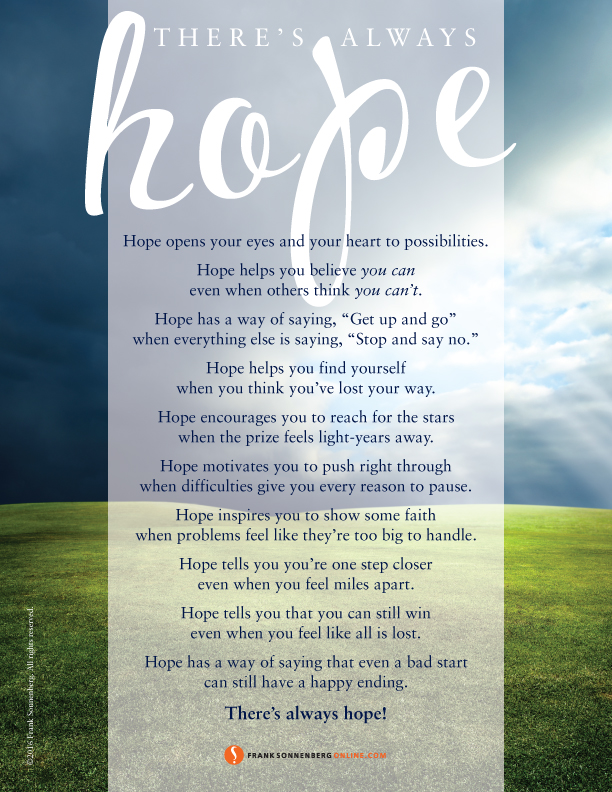 [pinit count="horizontal"]
There's Always Hope
Remember the time when you wanted something so badly, you could taste it? The problem was that the odds were clearly against you. How about the time when you faced a superior opponent and feared a crushing defeat? Or when you pushed yourself to the limit and your body shouted, "Enough!" Some folks are quick to give up and find excuses to make the disappointment go away. Others, on the other hand, know that if they've overcome the impossible before, they can do it again. The truth is, you can too. There's always hope!
Winning takes courage, strength, and determination. But those who are able to stare challenges in the eye, and conquer them, secure one of the most powerful tools in life: HOPE.
Dreams are born at the intersection of hope and reality. All it takes is will and desire. You know you have that in spades! So reach down into your soul and show what you're made of.
Hope is believing –– even when there's no tangible truth.
Hope opens your eyes and your heart to possibilities.
Hope helps you believe you can even when others think you can't.
Hope has a way of saying, "Get up and go" when everything else is saying, "Stop and say no."
Hope helps you find yourself when you think you've lost your way.
Hope encourages you to reach for the stars when the prize feels light-years away.
Hope motivates you to push right through when difficulties give you every reason to pause.
Hope inspires you to show some faith when problems feel like they're too big to handle.
Hope tells you you're one step closer even when you feel miles apart.
Hope tells you that you can still win even when you feel like all is lost.
Hope has a way of saying that even a bad start can still have a happy ending.
Don't Quit. There's always hope!
Please leave a comment and tell us what you think or share it with someone who can benefit from the information.
Additional Reading:
The Power of a Positive Attitude
Believe
A New Day
If you like this article, subscribe to our blog so that you don't miss a single post. Get future posts by RSS feed, email or Facebook. It's FREE.
Save
Save
Save
Save
Save
Save
Save