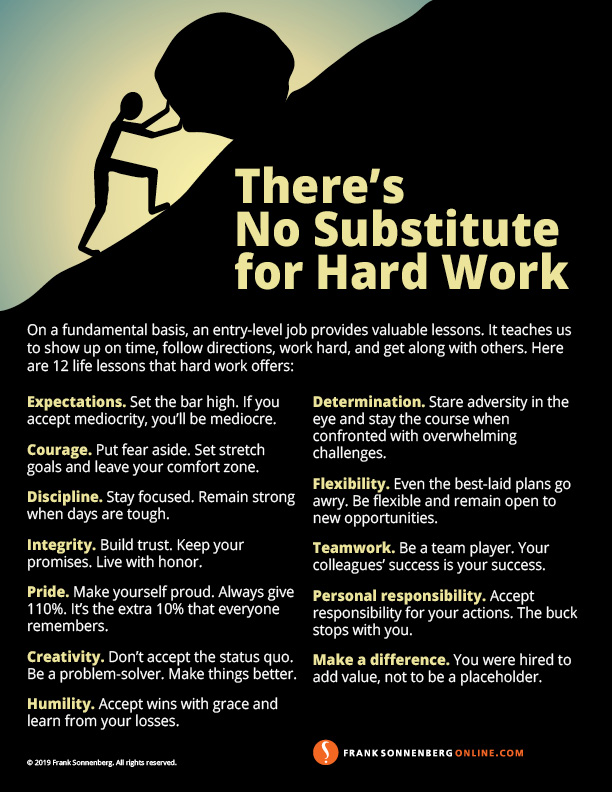 [pinit count="horizontal"]
There's No Substitute for Hard Work
There's no substitute for hard work. It builds character, contributes to success, provides a living, and promotes happiness. On a fundamental basis, an entry-level job provides valuable lessons. It teaches us to show up on time, follow directions, work hard, and get along with others. Here are 12 life lessons that hard work offers:
Expectations. Set the bar high. If you accept mediocrity, you'll be mediocre.
Courage. Put fear aside. Set stretch goals and leave your comfort zone.
Discipline. Stay focused. Remain strong when days are tough.
Integrity. Build trust. Keep your promises. Live with honor.
Pride. Make yourself proud. Always give 110%. It's the extra 10% that everyone remembers.
Creativity. Don't accept the status quo. Be a problem-solver. Make things better.
Humility. Accept wins with grace and learn from your losses.
Determination. Stare adversity in the eye and stay the course when confronted with overwhelming challenges.
Flexibility. Even the best-laid plans go awry. Be flexible and remain open to new opportunities.
Teamwork. Be a team player. Your colleagues' success is your success.
Personal responsibility. Accept responsibility for your actions. The buck stops with you.
Make a difference. You were hired to add value, not to be a placeholder.
What Are Other Benefits of Hard Work?
Please leave a comment and tell us what you think or share it with someone who can benefit from the information.
Additional Reading:
What Can Sports Teach You About the Game of Life?
The Power of a Positive Attitude
You Get What You Expect
If You're Not Proud, You're Not Done
If you like this article, subscribe to our blog so that you don't miss a single post. Get future posts by RSS feed, email or Facebook. It's FREE.