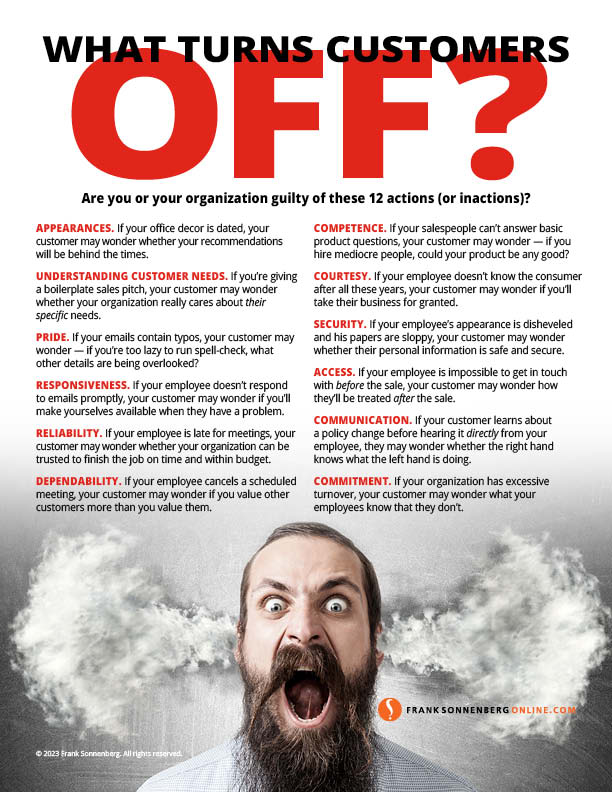 [pinit count="horizontal"]
What Turns Customers Off?
In today's competitive business environment, it's important that business leaders take a few minutes to consider what turns your customers off? Are you or your organization guilty of any of these 12 actions (or inactions)?
Appearances. If your office decor is dated, your customer may wonder whether your recommendations will be behind the times.
Understanding customer needs. If you're giving a boilerplate sales pitch, your customer may wonder whether your organization really cares about their specific needs.
Pride. If your emails contain typos, your customer may wonder — if you're too lazy to run spell-check, what other details are being overlooked?
Responsiveness. If your employee doesn't respond to emails promptly, your customer may wonder if you'll make yourselves available when they have a problem.
Reliability. If your employee is late for meetings, your customer may wonder whether your organization can be trusted to finish the job on time and within budget. That turns customers off.
Dependability. If your employee cancels a scheduled meeting, your customer may wonder if you value other customers more than you value them.
Competence. If your salespeople can't answer basic product questions, your customer may wonder — if you hire mediocre people, could your product be any good?
Courtesy. If your employee doesn't know the consumer after all these years, your customer may wonder if you'll take their business for granted.
Security. If your employee's appearance is disheveled and his papers are sloppy, your customer may wonder whether their personal information is safe and secure.
Access. If your employee is impossible to get in touch with before the sale, your customer may wonder how they'll be treated after the sale. That behavior definitely turns off customers.
Communication. If your customer learns about a policy change before hearing it directly from your employee, they may wonder whether the right hand knows what the left hand is doing.
Commitment. If your organization has excessive turnover, your customer may wonder what your employees know that they don't.
Many businesses view a sale as an isolated event, rather than as a long-term relationship with a customer. They believe that if a transaction is handled poorly, the cost is merely the loss of a single sale. Nothing could be further from the truth. You may lose the customer forever.
When you're in front of a customer, you may think you're only selling a product, but that's rarely the case. A long-term relationship hinges on trust and credibility. That doesn't happen by short-changing the customer. Everything you say and do will strengthen or weaken the bond of trust. The next time you're selling a product, remember that customers expect more than merchandise; they want to buy from a person they can count on and an organization they can trust. Character matters!
Check out Frank's latest book, The Path to a Meaningful Life.
What Turns You Off?
Please leave a comment and tell us what you think or share it with someone who can benefit from the information.
Additional Reading:
Are You Reliable or a Flake?
How to Prove that You're Dependable
30 Questions Every Business Owner Should Answer
Sometimes It's Good Business to Turn Away Business
50 Insane Mistakes Companies Make
Moral Character Matters
25 Common Sales Mistake to Avoid
If you like this article, subscribe to our blog so that you don't miss a single post. Get future posts by RSS feed, email or Facebook. It's FREE.