To My Readers:  I'm honored to republish, with permission, an article by Rodger Dean Duncan that first appeared in Forbes January 16, 2019. In it, he interviewed me about my approach to personal development. This is the second half of the interview. The first half, You Are What You Eat … And What You Read, was posted last week.
— Frank Sonnenberg
Frank Sonnenberg On Matters That Matter
By Rodger Dean Duncan PhD with Frank Sonnenberg
I previously introduced you to Frank Sonnenberg, one of the most popular bloggers writing today. (See "You Are What You Eat … and What You Read.")
His FrankSonnenbergOnline was named one of the "Best 21st Century Leadership Blogs" and his thoughts are among the most frequently quoted on the Internet. In short, people really like his stuff.
So do I.
Sonnenberg places an unapologetic focus on character, personal values, and personal accountability. But there's not a drop of sanctimony in his material. He's operated in the real world of real work (he was formerly a marketing executive at Ernst & Young) and still consults for many companies in multiple industries. So he knows first-hand that character, values, and accountability are important to personal success.
Here's a continuation of our conversation.
Rodger Dean Duncan: Criticism, you point out, is not the same as feedback. What do you see as the most effective way to offer candid, user-friendly input on someone's work performance that needs improvement?
Frank Sonnenberg: Some people view feedback as a gift; others view it as a slap in the face. The truth is, it's not a weakness to have shortcomings, but some people get defensive and view feedback as an attack.
The first rule of order is to ensure that your feedback is timely and in person, if possible. When giving feedback, give prior thought to what you're going to say; provide advance notification rather than blindsiding the recipient; and respect the individual's other priorities.
Build up the person rather than tearing him or her down. There's no need to embarrass people or make them feel bad. For that reason, compliment people in public, criticize them in private. In addition, make your feedback constructive; critique the act rather than demeaning the person; and give actionable advice rather than speaking in broad generalities. In addition, be honest and straightforward, provide your undivided attention, encourage meaningful dialog, and most of all, confirm that your message is understood. Finally, establish an action plan and follow up to ensure that progress has been made.
Duncan: Dependency, you say, purges people of their dreams. What tips do you have for helping people without making them helpless?
Sonnenberg: We want people to be happy and it pains us to see them struggle. So we promote them even though they don't deserve it; we overlook poor performance rather than confronting people head-on; and we package our kids in bubble wrap to ensure that they don't get hurt. The problem is that these well-intentioned plans can have unintended consequences.
While you may think you're doing people a favor by giving them a free pass, it's a recipe for disaster. We make it so easy for them that they forget how to function independently. And when we're not available to clear a path, protect them, or solve their problems for them, they fall flat on their face.
It's important to provide everyone with an equal opportunity to succeed and the tools required for success. Sure…they'll hit some bumps along the way, but they'll grow confident and resilient over time and will be forever grateful for your loving gift.
First, be a good role model and lead by example. Additionally, be honest and straightforward. If folks don't know their shortcomings, they're bound to repeat them. Be tough, but fair. Don't ask more of others than you're willing to do yourself. Be compassionate, but laissez-faire. Everyone should be free to decide how hard they're willing to work and the sacrifices they're prepared to make to achieve success. As I say, "If you're not willing to make the commitment, don't complain about the outcome."
Duncan: Healthy relationships are nurtured by good conversations. What have you observed to be the keys to good conversations?
Sonnenberg: Even though we don't always find time to have a proper conversation, we always make time to fix the misunderstanding, repair damaged feelings, or mend a wounded relationship.
Some people define communication as talking. They believe that if you choose the right words and speak with a proper tone of voice, you've covered all the bases. Nothing can be further from the truth. The fact is, effective communication requires more than choosing your words carefully. Words, after all, have at least two meanings: what you intend to say and what the listener thinks you mean.
If you want to have effective communication, the best option is a face-to-face conversation. In addition, set aside an appropriate amount of time, choose your location wisely, avoid distractions, make the person feel special, be genuinely truthful, and never respond emotionally. The truth is that communication is the rich give-and-take of ideas in an open and honest manner. Some people don't communicate. They just take turns talking.
Duncan: Harry Truman famously kept a sign on his White House desk that read "The Buck Stops Here." How can that philosophy of personal accountability be applied by people who don't happen to be president?
Sonnenberg: Some people view personal responsibility as a burden rather than a gift. The fact is, you get to choose your path in life, how high you'll set the bar for yourself, and how much effort you'll put into clearing it. You get to choose who to surround yourself with and who will influence you most. You get to choose how hard you're willing to work, what sacrifices you're willing to make, and whether you'll light up the world or allow yourself to flame out. The truth is, you have the freedom to choose, but you're not free from the consequences of those choices. That's your responsibility.
Be proud of who you are and what you stand for. Stand up for your beliefs and the values you hold dear. Remain true to the promises and commitments that you make. Be proud of the way that you carry yourself and the way that you treat others.
Finally, protect your reputation and your honor like it's the most important asset that you have—because it is. Personal responsibility can't be delegated or outsourced. If you're not responsible for your actions, who is?
Duncan: What's your advice for people who are tempted to take shortcuts on ethics?
Sonnenberg: I hear people say, "I'd like to conduct business the right way, but I don't have that luxury. I'm responsible for hitting my numbers." That drives me crazy. The fact is, there's a direct correlation between integrity and success.
What's the cost of distrust? When you have a toxic business environment, how much time and money is wasted looking over peoples' shoulders, second-guessing decisions, or plotting how to gain the upper hand? Such an environment encourages game-playing, destroys individual initiative, pits people against each other, and reduces competitiveness. Wouldn't you rather do business with someone you trust?
Trust is more than a platitude. It's critical to make honesty and integrity your guiding principles. That means delivering on your promises rather than sidestepping them for short-term gains; creating win-win relationships rather than trying to gain the upper hand; achieving compromises rather than winning at all costs; and doing what's right rather than what's convenient.
Most importantly, don't do these things because it's good for you. Do them because it's the right thing to do. Trust me. It'll come back to you in spades.
This article first appeared in Forbes. It is republished, with permission.  (© 2019 Rodger Dean Duncan. All rights reserved.)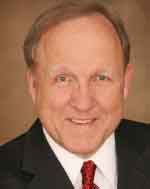 Rodger Dean Duncan is the bestselling author of LeaderSHOP: Workplace, Career, and Life Advice From Today's Top Thought Leaders.
About Rodger Dean Duncan
For the past 40 years I've consulted and coached leaders from the factory floor to the boardroom in some of the world's best companies in multiple industries. Basically, I help people get good stuff done while avoiding the Dilbert Zone. Early in my career I covered politics and business for Texas newspapers, and freelanced for publications ranging from The New York Times and The National Observer to Boys' Life and Parade magazine. Then I was a university professor, worked on Wall Street, served in two White House administrations, advised several U.S. Senators, and headed worldwide communications at Campbell Soup Company. My Ph.D. (Purdue University) is in organizational behavior, but my orientation is the real world of real work. My bestselling book is CHANGE-friendly LEADERSHIP: How to Transform Good Intentions into Great Performance. Follow on Twitter @DoctorDuncan
Please leave a comment and tell us what you think or share it with someone who can benefit from the information.
Additional Reading:
Make Personal Development a Priority
Moral Character Matters
Are You Preparing Your Kids for the Real World?
A Promise Is a Promise
Honesty: The Plain and Simple Truth
Would You Do Something Unethical If You Could Get Away With It?
10 Ways That Helping People Makes Them Helpless
If you like this article, subscribe to our blog so that you don't miss a single post. Get future posts by RSS feed, email or Facebook. It's FREE.