Think about all the time that you spend taking care of your body: the organic food, the vitamin supplements, and — who can forget — the exercise! Do you focus the same amount of attention on your personal development? The fact is, your mindset matters more than you think.
Your attitude, outlook, and self-confidence can have a significant impact on your health and relationships, as well as on your success and happiness. It's time to nurture your frame of mind, too.
Ability determines if you can; attitude determines if you will.
Frank Sonnenberg, one of America's "Top Thought Leaders" and influential small-business experts, reveals his best strategies for unleashing your full potential and achieving success and happiness in life. This book contains over 60 powerful essays from FrankSonnenbergOnline — named among the "Best 21st Century Leadership Blogs"; among the "Top 100 Socially-Shared Leadership Blogs"; and one of the "Best Inspirational Blogs On the Planet."
If you think the world is going to stand still because you're not interested or motivated enough to make an investment in yourself, you're sadly mistaken; unless you learn something new every day, you're becoming obsolete. Learning is as much an attitude as it is an activity. If you don't make the commitment, don't complain about the outcome. Buy this book and get started today!
Soul Food: Change Your Thinking, Change Your Life
by Frank Sonnenberg
This is what readers are saying:
"Reading Frank's teachings is like sitting at the feet of a master. Soul Food provides a fantastic opportunity to learn from someone who knows the way — and is generous enough to share it with us."
Bob Burg
Coauthor of The Go-Giver and The Go-Giver Influencer
"Soul Food will help you excel as an extraordinary individual and ethical leader. I wish I had this book long ago. I strongly recommend reading it!"
Professor M.S. Rao, PhD
Father of "Soft Leadership" and author of over 40 leadership books
"Soul Food provides the recipe for a happier, more meaningful life, with better relationships and greater success. These nuggets of relatable, easy-to-digest wisdom will inspire the best in you."  
Melanie Greenberg, PhD
Clinical psychologist, coach, and author of The Stress-Proof Brain
"Frank Sonnenberg serves the world, leading us to perform our best in life and work. Soul Food is an outstanding compendium of actionable inspiration that will add value in any setting."
James Strock
Author of Serve to Lead
"If you only have time to read one book this decade, make it Soul Food. It is not a book to be read. It is a recipe to be lived."
August Turak
Templeton Prize-winning author of Brother John: A Monk, a Pilgrim and the Purpose of Life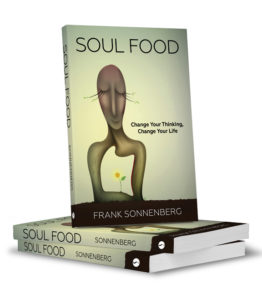 "Soul Food is truly a life-changing book. It's filled with incredible wisdom and practical advice that will help you achieve a new level of success and happiness."
John Spence
Named "Among Top 500 Leadership Development Experts in the World" by HR.com
"Soul Food promotes nurturing from the inside out. Frank Sonnenberg offers concise and actionable tips to help you think about the most important things in life."
LaRae Quy
Former counterintelligence FBI agent, author of Mental Toughness for Women Leaders and Secrets of a Strong Mind
"Frank Sonnenberg has a way of communicating powerful ideas in gentle ways. Soul Food provides inspirational lessons that will help you live the life of your dreams. It's a must-read."
Sarah Hiner
President and CEO, Bottom Line Inc. (Publisher of Bottom Line Personal)
"When Frank says, 'for what it's worth,' it's your clue to listen up! There's a gem of wisdom that follows this humble phrase. Soul Food — Read it. Be inspired. For what it's worth…"
Sharon Telesca Feurer
Luxury hospitality consultant and business strategist
"Frank Sonnenberg offers the greatest wisdom and penetrating insights of any author I have ever read. Soul Food is his best."
Bob Vanourek
Award-winning leadership author and the former CEO of five companies
Soul Food: Your Mindset Matters More Than You Think
Please leave a comment and tell us what you think or share it with someone who can benefit from the information.
Additional Reading:
BOOKSMART
Follow Your Conscience
Managing with a Conscience
If you like this article, subscribe to our blog so that you don't miss a single post. Get future posts by RSS feed, email or Facebook. It's FREE.