Everyone is searching for meaning in life, but few people know how to find it. The problem is that most people are seeking validation from others rather than living a life that makes them proud.
You may be thinking, "Who cares? I'm too busy." While that's understandable, if you wait too long to identify the path that's right for you, you'll never really know if you're heading off course. While you're busy, life happens.
Be remembered for things that matter.
Who are you? What are the values that define you? What mark do you want to make on the world? What legacy do you want to leave behind? If you haven't answered these questions to discover the real you, it may be time to give them some thought. After all, wouldn't it be sad to spend your whole life with someone you never really got to know?
The Path to a Meaningful Life by Frank Sonnenberg contains over 60 powerful essays that will change the way you think about life.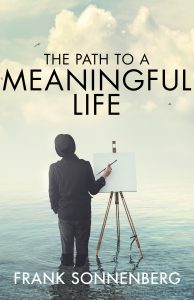 Frank Sonnenberg is one of America's "Top Thought Leaders" and influential small-business experts. The essays are from Frank's blog — FrankSonnenbergOnline — which has attracted millions of readers and was recently named one of the "Top Self-Improvement and Personal Development Blogs" in the world. In addition, it continues to be named among the "Best 21st Century Leadership Blogs," the "Top 100 Socially-Shared Leadership Blogs," and the "Best Inspirational Blogs On the Planet."
Make a conscious effort to live a life that makes you happy, one in which you make a difference, and one that makes you proud. You have an opportunity to define your values and your life as you see fit, or to go with the flow and let them be defined for you. You have one life to live. There is no dress rehearsal.
Begin your journey to know the real you today. This book will get you started! Click here
Praise for The Path to a Meaningful Life
"The Path to a Meaningful Life offers the wisdom of one of the most respected thought leaders of our time. Frank Sonnenberg shows you how to lead a meaningful life and make every moment matter."
— PROFESSOR M.S. RAO, PhD
Father of "Soft Leadership" and author of 50 leadership books
"The Path to a Meaningful Life will open your eyes to what's most important. Each chapter guides you through core principles to help you become a better leader, role model, and citizen. SO refreshing!"
— HANNAH MORGAN
Recognized by LinkedIn as a "Top Voice in Job Search & Careers"
"In this day and age, it's more important than ever to impart strong values to your kids. The Path to a Meaningful Life is an excellent resource to assist you in that effort. I strongly recommend it!"
— SUE SCHEFF
Nationally recognized author, parent advocate, and family Internet safety advocate
"The Path to a Meaningful Life is a road map for building strong moral character. According to Frank, honor, integrity, loyalty, duty, respect, selfless service, and personal courage must take center stage. The world needs this book. Bravo!!!"
— JUSTIN F. BLUM
Lieutenant Colonel (Ret), United States Army
Cadet Command Senior Army Instructor of the Year, 2003 and 2011
"In today's superficial world of 'likes' and 'shares,' Frank offers a unique path that will lead you to a purposeful life with lasting satisfaction. The Path to a Meaningful Life is a gift worth reading."
— STEVE GUTZLER
President of Leadership Quest
"What would you give for counsel from the world's wisest expert on how to live your most meaningful life? Frank Sonnenberg is that expert. The Path to a Meaningful Life is the guidebook for that noble quest."
— BOB VANOUREK
Award-winning author and the former CEO of five companies
"The Path to a Meaningful Life is a ready reference for navigating today's turbulent times. Frank Sonnenberg provides an actionable guide for forging individual character. He demonstrates that creating enduring value for others is built upon achieving integrity in our lives and work."
— JAMES STROCK
Author of Serve to Lead
"The Path to a Meaningful Life is all about making informed, well-considered choices. Frank Sonnenberg provides great guidance for each of us as we build habits aligned with making good choices!"
— JOHN BENNETT JR, PhD
Professor Emeritus, University of Connecticut
"If you want to live an extraordinary life you must read this book. Filled with timeless wisdom and introspective questions, Sonnenberg has created a guide to help you become the best possible version of yourself."
— JOHN SPENCE
Named "Among Top 500 Leadership Development Experts in the World" by HR.com
"Frank Sonnenberg has done it again! In what often feels like dystopic times, Frank provides a positive, uplifting message — a message full of hope, based on universal principles. Buy it and then live it! You'll be happy you did."
— AUGUST TURAK
Templeton Prize-winning author of Brother John: A Monk, a Pilgrim and the Purpose of Life
Buy The Path to a Meaningful Life today! Paperback — Kindle — Hardcover
Please leave a comment or share it with someone who can benefit from the information.
Other Titles From Frank Sonnenberg:
Listen to Your Conscience.That's Why You Have One
Soul Food: Change Your Thinking, Change Your Life
BookSmart: Hundreds of Real-World Lessons for Success and Happiness
Follow Your Conscience: Make a Difference in Your Life & in the Lives of Others
Managing with a Conscience: How to Improve Performance Through Integrity, Trust, and Commitment (2nd edition)
If you like this article, subscribe to our blog so that you don't miss a single post. Get future posts by RSS feed, email or Facebook. It's FREE.