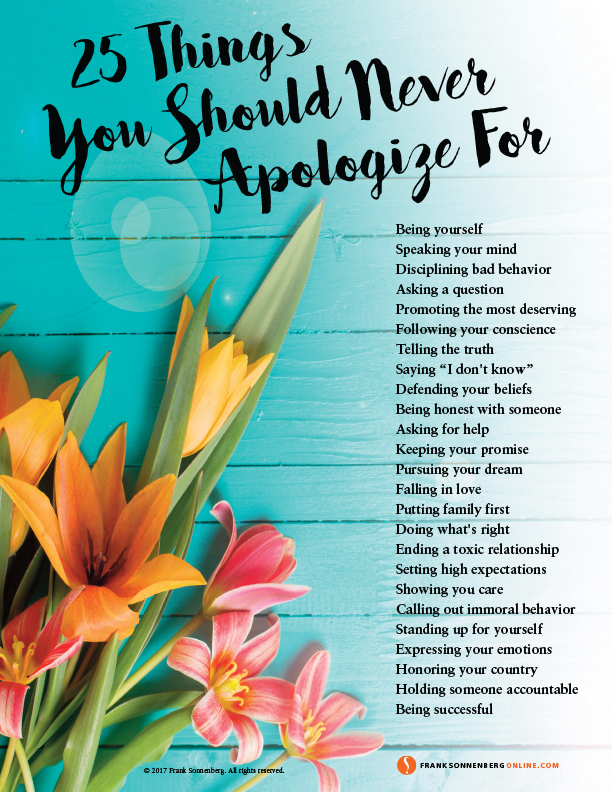 [pinit count="horizontal"]
If You Offend Someone, Should You Apologize? (Not Always.)

Never apologize for:
Being yourself
Disciplining bad behavior
Asking a question
Promoting the most deserving
Following your conscience
Telling the truth
Saying "I don't know"
Defending your beliefs
Being honest with someone
Asking for help
Keeping your promise
Pursuing your dream
Falling in love
Putting family first
Doing what's right
Ending a toxic relationship
Setting high expectations
Showing you care
Calling out immoral behavior
Standing up for yourself
Expressing your emotions
Honoring your country
Holding someone accountable
Being successful
I'm Not Sorry. Are You?
Please leave a comment and tell us what you think or share it with someone who can benefit from the information.
Additional Reading:
50 Things Your Conscience May Be Trying to Tell You
14 Things You Can't Afford to Take for Granted
17 Action Steps to Take During Tough Times
42 Ways to Make Your Life Easier
If you like this article, subscribe to our blog so that you don't miss a single post. Get future posts by RSS feed, email or Facebook. It's FREE.
Save
Save