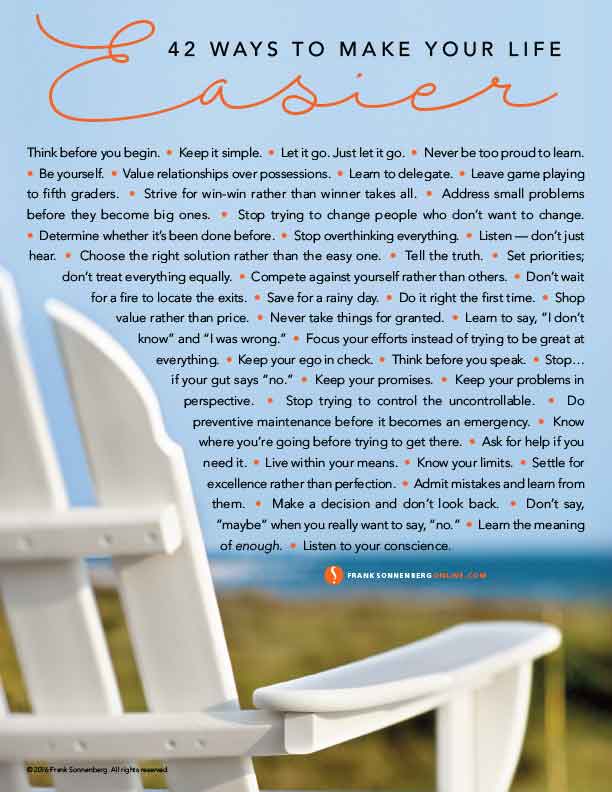 [pinit count="horizontal"]
42 Ways to Make Your Life Easier
Think before you begin.
Keep it simple.
Let it go. Just let it go.
Never be too proud to learn.
Be yourself.
Value relationships over possessions.
Learn to delegate.
Leave game playing to fifth graders.
Strive for win-win rather than winner takes all.
Address small problems before they become big ones.
Stop trying to change people who don't want to change.
Determine whether it's been done before.
Stop overthinking everything.
Listen –– don't just hear.
Choose the right solution rather than the easy one.
Tell the truth.
Set priorities. Don't treat everything equally.
Compete against yourself rather than others.
Don't wait for a fire to locate the exits.
Save for a rainy day.
Do it right the first time.
Shop value rather than price.
Never take things for granted.
Learn to say, "I don't know" and "I was wrong."
Focus your efforts instead of trying to be great at everything.
Keep your ego in check.
Think before you speak.
Stop…if your gut says "no."
Keep your promises.
Keep your problems in perspective.
Stop trying to control the uncontrollable.
Do preventive maintenance before it becomes an emergency.
Know where you're going before trying to get there.
Ask for help if you need it.
Live within your means.
Know your limits.
Settle for excellence rather than perfection.
Admit mistakes and learn from them.
Make a decision and don't look back.
Don't say, "maybe" when you really want to say, "no."
Learn the meaning of enough.
Listen to your conscience.
Is Your Life Complicated? Make Your Life Easier, Today!
Please leave a comment and tell us what you think or share it with someone who can benefit from the information.
Save
Additional Reading:
Why Make Your Life Complicated?
Your Happiness Lies in the Balance
24 Ways to Simplify Your Life
Doing Nothing Is Time Well Spent
If you like this article, subscribe to our blog so that you don't miss a single post. Get future posts by RSS feed, email or Facebook. It's FREE.
Save
Save
Save
Save
Save
Save
Save
Save
Save
Save
Save
Save
Save