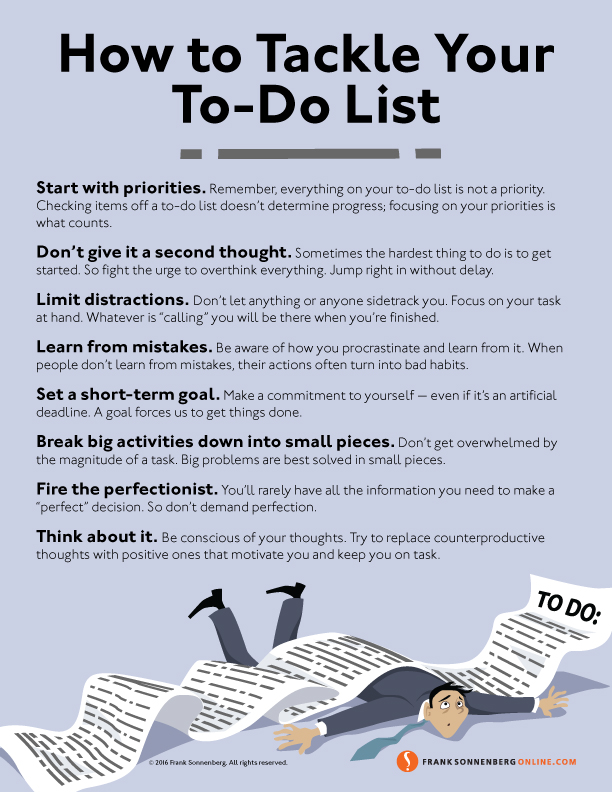 [pinit count="horizontal"]
8 Ways to Tackle Your To-Do List
Did you ever feel that your to-do list was so out of control that it triggered a mental or physical response? Your hands got clammy, your heart started pounding, and your anxiety level reached a new height.
It's so easy for a to-do list to snowball out of control. In some cases, it takes no time at all to go from "I can do this," to outright panic. In fact, it can become so overwhelming that it makes you freeze in your tracks –– preventing you from getting anything done.
How to Tackle Your To-Do List
 Here are eight strategies to help you get it done:
Start with priorities. Remember, everything on your to-do list is not a priority. Checking items off a to-do list doesn't determine progress; focusing on your priorities is what counts.
Don't give it a second thought. Sometimes the hardest thing to do is to get started. So fight the urge to overthink everything. Jump right in without delay.
Limit distractions. Don't let anything or anyone sidetrack you. Focus on your task at hand. Whatever is "calling" you will be there when you're finished.
Learn from mistakes. Be aware of how you procrastinate and learn from it. When people don't learn from mistakes, their actions often turn into bad habits.
Set a short-term goal. Make a commitment to yourself –– even an artificial deadline. A goal forces us to get things done.
Break big activities down into small pieces. Don't get overwhelmed by the magnitude of a task. Big problems are best solved in small pieces.
Fire the perfectionist. You'll rarely have all the information you need to make a "perfect" decision. So don't demand perfection. The philosopher Voltaire warned against letting the perfect be the enemy of the good. That advice still holds true today.
Think about it. Be conscious of your thoughts. Try to replace counterproductive thoughts with positive ones that motivate you and keep you on task.
Please leave a comment and tell us what you think or share it with someone who can benefit from the information.
Save
Additional Reading:
Attention, Control Freaks: It's Time to Delegate
8 Ways to Win the Race Against Time
Where Did the Time Go?
If you like this article, subscribe to our blog so that you don't miss a single post. Get future posts by RSS feed, email or Facebook. It's FREE.
Save
Save
Save
Save
Save
Save
Save
Save
Save