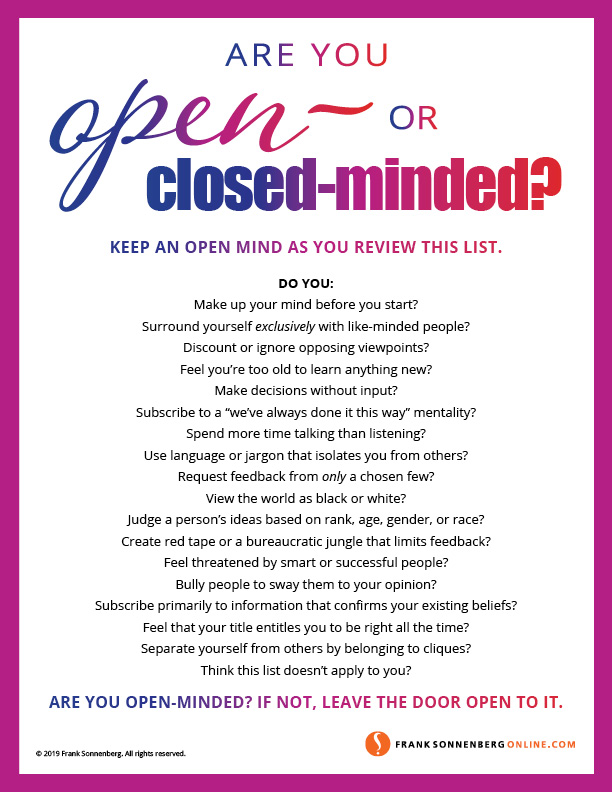 [pinit count="horizontal"]
People say you should be open-minded — accepting of people from diverse backgrounds, listening without judging, and considering all sides of an issue. Even though that's sensible in theory, some folks find it difficult in practice. That's troubling because having an open mind is not only the right thing to do, it's beneficial in ways you've never imagined. Are you open or closed-minded? Keep an open mind as you review this list. You may be more closed-minded than you think.
Are You Closed-Minded?
Do you:
Make up your mind before you start?
Surround yourself exclusively with like-minded people?
Discount or ignore opposing viewpoints?
Feel you're too old to learn anything new?
Make decisions without input?
Subscribe to a "we've always done it this way" mentality?
Spend more time talking than listening?
Use language or jargon that isolates you from others?
Request feedback from only a chosen few?
View the world as black or white?
Judge a person's ideas based on rank, age, gender, or race?
Create red tape or a bureaucratic jungle that limits feedback?
Feel threatened by smart or successful people?
Bully people to sway them to your opinion?
Subscribe primarily to information that confirms your existing beliefs?
Feel that your title entitles you to be right all the time?
Separate yourself from others by belonging to cliques?
Think this list doesn't apply to you?
Open your eyes to the world around you. You just may learn something. It will make your decisions better, your relationships stronger, and it will transform you into a more enlightened person. Being open-minded doesn't require a major investment of your time but rather, a fresh new way of thinking. It requires you to be a sponge — obtaining information from various sources, seeking input from people of diverse backgrounds and viewpoints, and evaluating that input based on its merits rather than on whether it conforms to your way of thinking. Are you open or closed-minded? If you're not open-minded, leave the door open to it.
Are You Open-Minded?
Please leave a comment and tell us what you think or share it with someone who can benefit from the information.
Additional Reading:
This Discussion Has No Room for Debate
Should Your Viewpoint Matter More Than Mine?
Freedom of Speech Carries Responsibility
Building Bridges: We're In This Together
Prejudice: "All" Is an Ugly Word
How Do You See the World Around You?
If you like this article, subscribe to our blog so that you don't miss a single post. Get future posts by RSS feed, email or Facebook. It's FREE.