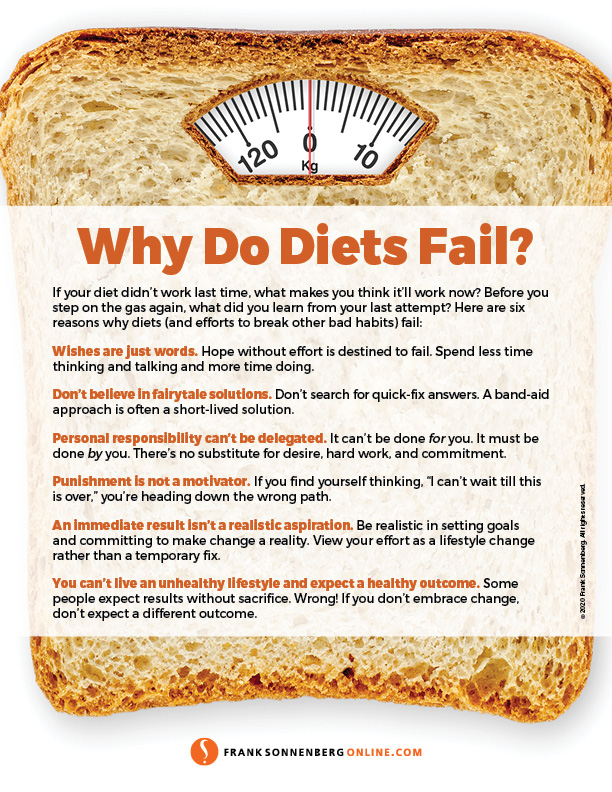 [pinit count="horizontal"]
Are You Planning to Go on a Diet?
If your diet didn't work last time, what makes you think it'll work now? Before you step on the gas again, what did you learn from your last attempt? You did not fail. Your diet failed you!
6 Reasons Why Diets Fail
Here are six reasons why diets (and efforts to break other bad habits) fail:
Wishes are just words. Hope without effort is destined to fail. Spend less time thinking and talking and more time doing.
Don't believe in fairytale solutions. Don't search for quick-fix answers. A band-aid approach is often a short-lived solution.
Personal responsibility can't be delegated. It can't be done for you. It must be done by you. There's no substitute for desire, hard work, and commitment.
Punishment is not a motivator. If you find yourself thinking, "I can't wait till this is over," you're heading down the wrong path. Don't worry if you go off the bandwagon once in a while. One dessert won't change mankind. But if you make the process fun (or at least bearable), you'll return to your effort.
An immediate result isn't a realistic aspiration. Be realistic in setting goals and committing to make change a reality. Be patient. It's a marathon, not a sprint. View your effort as a lifestyle change rather than a temporary fix. If you enthusiastically push forward, it'll become habit over time. The truth is, incremental progress leads to long-lasting results.
You can't live an unhealthy lifestyle and expect a healthy outcome. Some people expect results without sacrifice. Wrong! If you don't embrace change, don't expect a different outcome.
Success Requires Commitment
There are three lessons that can be learned from diets that fail:
When you make promises to yourself, keep them. If the effort is important to you, see it through to fruition. Or don't do it at all.
Determination is habit forming; so is quitting. When you surrender to weaknesses, you're letting yourself down. Every time you quit, you make it easier to tell yourself that quitting is acceptable. That's detrimental to all your future efforts. Conversely, every time you show determination, you build inner strength to overcome other challenges that you'll face in the future.
Willpower is nothing more than desire. You have the power to achieve anything you want as long as you work hard and have the determination to succeed. Believe in yourself. Don't outsource your responsibility or expect others to do the heavy lifting. You have to make it happen. Enjoy the process. Don't view the effort as a chore. The truth is, although incremental progress won't produce instant results, little steps cover a lot of ground over time. Give it a try. What do you have to lose?
Is Your Diet Working?
Please leave a comment and tell us what you think or share it with someone who can benefit from the information.
Additional Reading:
Why Self-Discipline Should Matter to You
What Do Your Habits Say About You?
Are You Discouraged?
Get It Done!
The Power of a Positive Attitude
New Year's Resolutions (Another Year of Broken Promises?)
If you like this article, subscribe to our blog so that you don't miss a single post. Get future posts by RSS feed, email or Facebook. It's FREE.