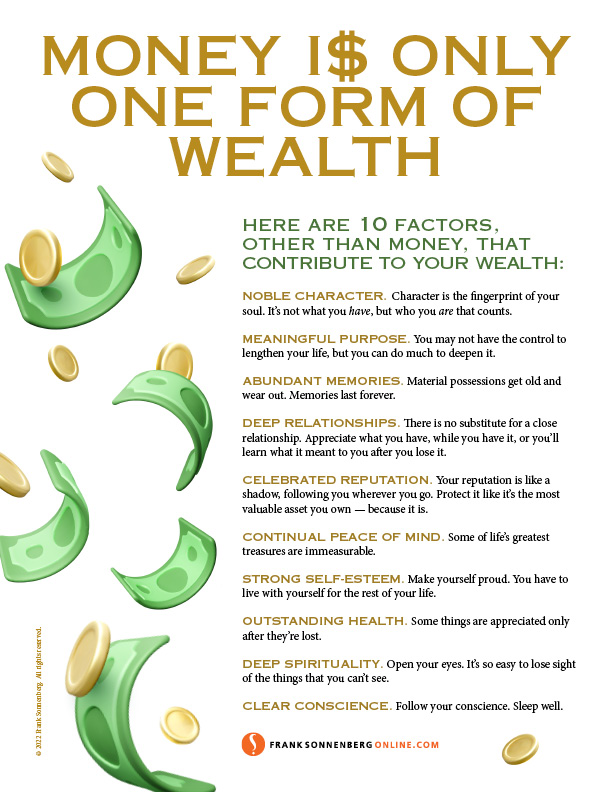 [pinit count="horizontal"]
Everyone views money differently. Some folks buy what they need, while others buy what they want. Some people use money to measure their success, while others buy things to prove they're a success. Some people worship money like it's the most important thing in life, while others are grounded — and keep things in perspective. In any case, one thing's for certain…many people are actually poor because the only thing they have is money. Money is only one form of wealth.
Here are 10 factors, other than money, that contribute to your wealth:
Noble character. Character is the fingerprint of your soul. It's not what you have, but who you are that counts.
Meaningful purpose. You may not have the control to lengthen your life, but you can do much to deepen it.
Abundant memories. Material possessions get old and wear out. Memories last forever.
Deep relationships. There is no substitute for a close relationship. Appreciate what you have, while you have it, or you'll learn what it meant to you after you lose it.
Celebrated reputation. Your reputation is like a shadow, following you wherever you go. Protect it like it's the most valuable asset you own — because it is.
Continual peace of mind. Some of life's greatest treasures are immeasurable.
Strong self-esteem. Make yourself proud. You have to live with yourself for the rest of your life.
Outstanding health. Some things are appreciated only after they're lost.
Deep spirituality. Open your eyes. It's so easy to lose sight of the things that you can't see.
Clear conscience. Follow your conscience. Sleep well. Money should never become the cornerstone of your life nor should it define you as a person. If you pursue money at all costs, the price that you'll pay is real. The fact is, money can buy things, but it can't buy everything. You're rich when you learn that some of the best things in life are free. Money is only one form of wealth.
Check out Frank's new book, The Path to a Meaningful Life.
How Do You Feel About Wealth?
Please leave a comment and tell us what you think or share it with someone who can benefit from the information.
Additional Reading:
50 Things Money Can't Buy
Can Money Buy Respect?
The Secret to True Happiness
11 Things Your Boss Can't Have Without YOUR Approval
Welcome to the New Age of Intangibles
Are You Grateful?
Do You Compare Yourself to Others?
If you like this article, subscribe to our blog so that you don't miss a single post. Get future posts by RSS feed, email or Facebook. It's FREE.