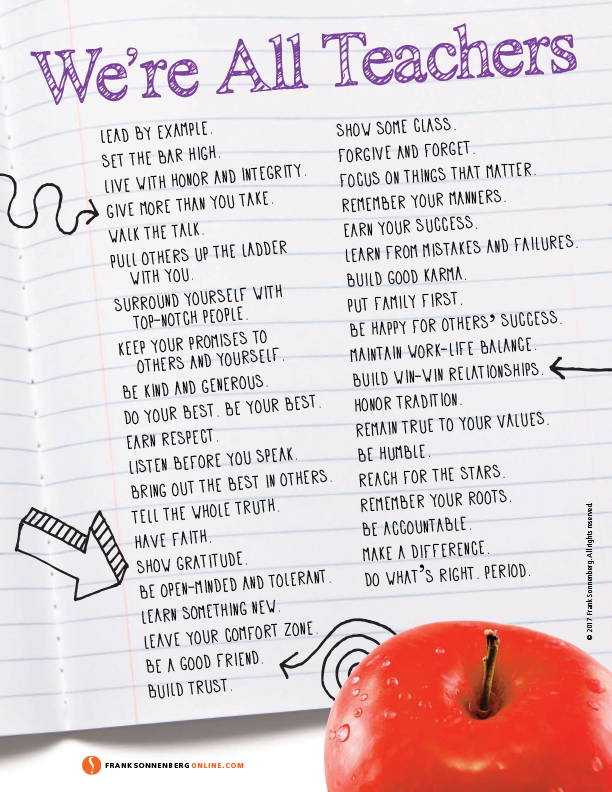 [pinit count="horizontal"]
We're All Teachers
We're all teachers. When you're a role model, you are influencing people every day. Be a positive force in their life. Make a difference. Make people feel special; bring out the best in them; help them without expecting something in return; be genuinely happy for their achievements. The more you do for others, the happier you'll be.
Every message you send is critical. Operate with integrity at all times. Do what's right. Period. That way, you'll never have to look over your shoulder to see who's watching. Have high expectations for others AND yourself. Avoid the tendency to adjust the target downward just to accommodate mediocrity. Listen to your conscience. Sleep well. Here are some action items for you to consider:
Lead by example.
Set the bar high.
Live with honor and integrity.
Give more than you take.
Walk the talk.
Pull others up the ladder with you.
Surround yourself with top-notch people.
Keep your promises to others — and yourself.
Be kind and generous.
Do your best. Be your best.
Earn respect.
Listen before you speak.
Bring out the best in others.
Tell the whole truth.
Have faith.
Show gratitude.
Be open-minded and tolerant.
Learn something new.
Leave your comfort zone.
Be a good friend.
Build trust.
Show some class.
Forgive and forget.
Focus on things that matter.
Remember your manners.
Earn your success.
Learn from mistakes and failures.
Build good karma.
Put family first.
Be happy for others' success.
Maintain work-life balance.
Build win-win relationships.
Honor tradition.
Remain true to your values.
Be humble.
Reach for the stars.
Remember your roots.
Be accountable.
Make a difference.
Do what's right. Period.
Are You a Good Teacher? Lead By Example!
Please leave a comment and tell us what you think or share it with someone who can benefit from the information.
Additional Reading:
ACTIONS Speak Louder Than words
Being "All Talk" Speaks Volumes
9 Powerful Reasons Why Your Moral Character Matters
Are Role Models Becoming Extinct?
If you like this article, subscribe to our blog so that you don't miss a single post. Get future posts by RSS feed, email or Facebook. It's FREE.
Save
Save