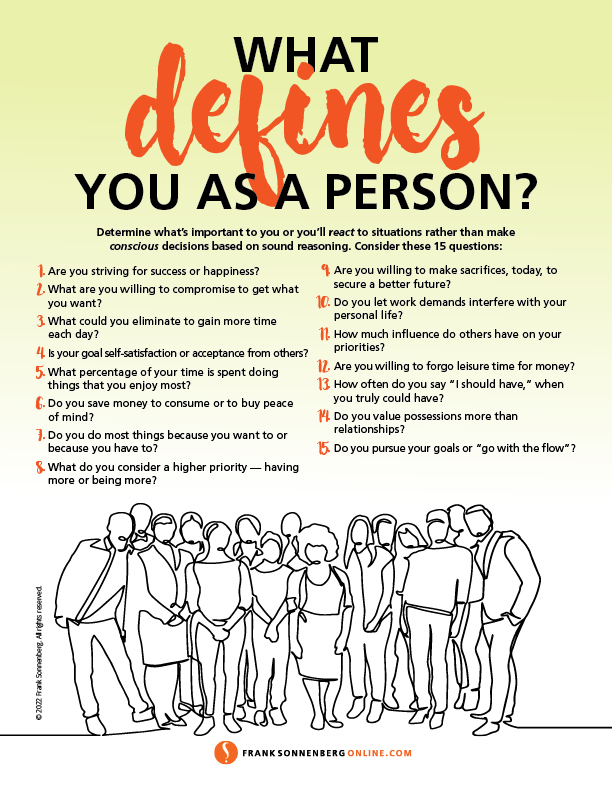 [pinit count="horizontal"]
What Defines You as a Person?
Some people think they'll wake up one morning and their path in life will be as clear as day. Other folks wait for the perfect time to determine what matters most, while others don't want to make a misstep. The problem is, if you don't identify what matters most to you, you'll never know if you're heading in the right direction or off course. What defines you as a person?
In many ways, life is like driving. Would you get into your car without a destination in mind? Probably not. As Yogi Berra said, "If you don't know where you are going, you'll end up someplace else." Determine what's important to you or you'll react to situations rather than make conscious decisions based on sound reasoning. Consider these 15 questions:
Are you striving for success or happiness?
What are you willing to compromise to get what you want?
What could you eliminate to gain more time each day?
Is your goal self-satisfaction or acceptance from others?
What percentage of your time is spent doing things that you enjoy most?
Do you save money to consume or to buy peace of mind?
Do you do most things because you want to or because you have to?
What do you consider a higher priority — having more or being more?
Are you willing to make sacrifices, today, to secure a better future?
Do you let work demands interfere with your personal life?
How much influence do others have on your priorities?
Are you willing to forgo leisure time for money?
How often do you say "I should have," when you truly could have?
Do you value possessions more than relationships?
Do you pursue your goals or "go with the flow"?
Too often, we get so caught up in the day-to-day minutiae that we lose sight of the big picture. And when we finally take time to catch our breath, we look back in retrospect and want a do-over for the bad choices that we've made. What defines you as a person? If you don't define your priorities, you won't be conscious of them. If you don't commit to your priorities, you won't achieve them. When all is said and done, there are no dress rehearsals in life.
What Defines You as A Person?
Please leave a comment and tell us what you think or share it with someone who can benefit from the information.
Additional Reading:
35 Questions to Inspire Self-Reflection
Living Life With a Purpose
Inner Peace is a Choice
The Secret to True Happiness
Change Your Priorities: Change Your Life
Your Happiness Lies in the Balance
Your Job Doesn't Define You
If you like this article, subscribe to our blog so that you don't miss a single post. Get future posts by RSS feed, email or Facebook. It's FREE.