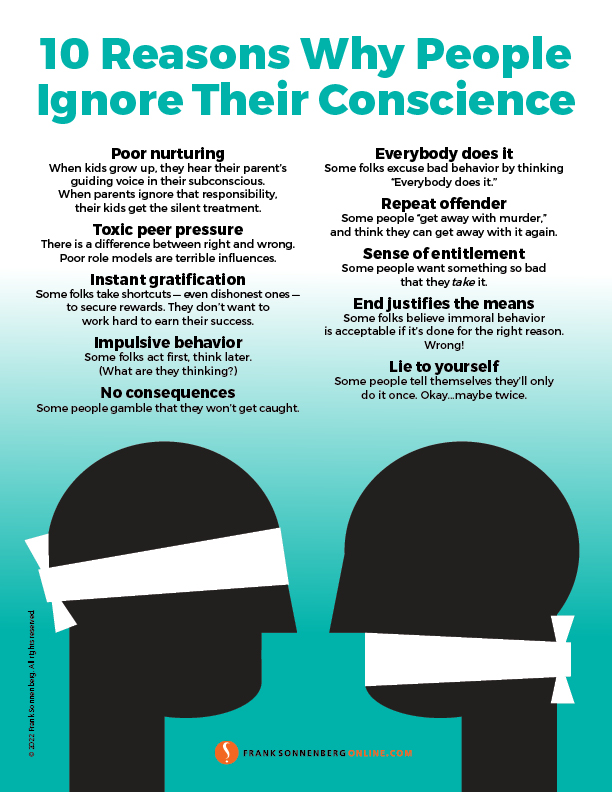 [pinit count="horizontal"]
10 Reasons Why People Ignore Their Conscience
You have one life to live. And YOU get to choose the path you'll take. You can take the high ground and live your life with honor and integrity. Or, you can take the low road and sell your soul to the highest bidder. At the end of the day, when you're lying awake at night, you will know which path you've chosen. I hope you chose well. Do you ignore your conscience?
A life of honor offers abundant rewards; a life of dishonor comes at a very steep price.
Do You Ignore Your Conscience?
Poor nurturing. When kids grow up, they hear their parent's guiding voice in their subconscious. When parents ignore that responsibility, their kids get the silent treatment.
Toxic peer pressure. There is a difference between right and wrong. Poor role models are terrible influences.
Instant gratification. Some folks take shortcuts — even dishonest ones — to secure rewards. They don't want to work hard to earn their success.
Impulsive behavior. Some folks act first, think later. (What are they thinking?)
No consequences. Some people gamble that they won't get caught.
Everybody does it. Some folks excuse bad behavior by thinking "Everybody does it."
Repeat offender. Some people "get away with murder," and think they can get away with it again.
Sense of entitlement. Some people want something so bad that they take it.
End justifies the means. Some folks believe immoral behavior is acceptable if it's done for the right reason. Wrong!
Lie to yourself. Some people tell themselves they'll only do it once. Okay…maybe twice.
I'm probably not telling you anything you don't already know. But ask yourself: If it's so obvious, why do people ignore their conscience? Care not only about where life is taking you, but about how you're getting there as well. Don't listen to me; listen to your conscience.
Do You Ignore Your Conscience?
Please leave a comment and tell us what you think or share it with someone who can benefit from the information.
Additional Reading:
Moral Character Matters
Take Ownership by Taking Responsibility
Be Honorable for Your Own Good
ACTIONS Speak Louder Than Words
Reputation: You Can't Run from Your Shadow
50 Things Your Conscience May Be Trying to Tell You
If you like this article, subscribe to our blog so that you don't miss a single post. Get future posts by RSS feed, email or Facebook. It's FREE.