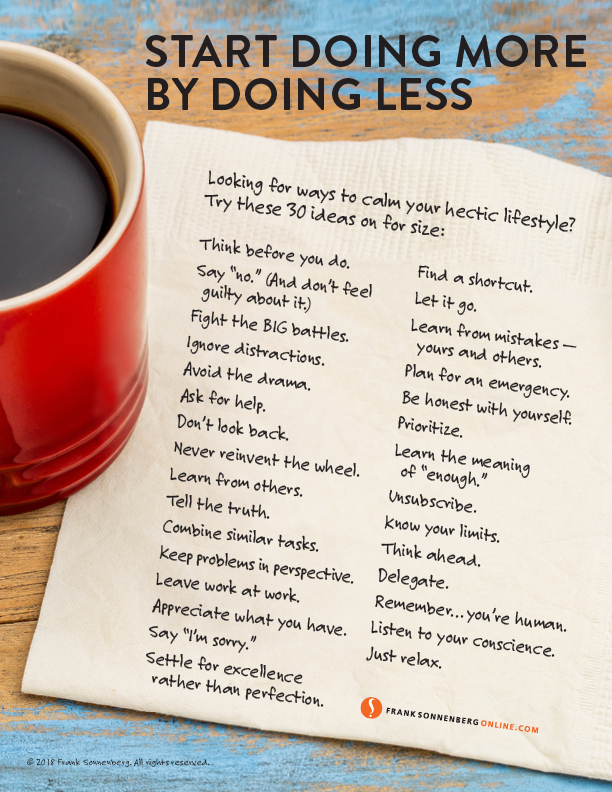 [pinit count="horizontal"]
Are You Always on the Run?
Did you ever notice when you ask some folks how they're doing, they respond that they're really busy? I ask myself, "Is that good?" Are they suggesting that being busy shows how popular, in-demand, and successful they are? I guess their answer implies that the more frenzied they act, the better they're doing. Does that make any sense to you? Are you always on the run?
Start Doing More by Doing Less
Looking for ways to calm your hectic lifestyle? Try these 30 ideas on for size:
Think before you do.
Say "no." (And don't feel guilty about it.)
Fight the BIG battles.
Ignore distractions.
Avoid the drama.
Ask for help.
Don't look back.
Never reinvent the wheel.
Learn from others.
Tell the truth.
Combine similar tasks.
Keep problems in perspective.
Leave work at work.
Appreciate what you have.
Say "I'm sorry."
Settle for excellence rather than perfection.
Find a shortcut.
Let it go.
Learn from mistakes — yours and others.
Plan for an emergency.
Be honest with yourself.
Prioritize.
Learn the meaning of enough.
Unsubscribe.
Know your limits.
Think ahead.
Delegate.
Remember…you're human.
Listen to your conscience.
Just relax.
Think about it…we pack our day with commitments until we don't have a second to breathe. Then, when we're at the end of our rope and can't possibly do any more, we add one more commitment — as if we're trying to drive ourselves crazy. Of course, when the slightest thing goes wrong — which always happens — we get anxious and flip out. The house of cards collapses. Right? Rather than learn our lesson, we repeat the same mistake the next day. Run, run, run. The truth is, we're so busy being busy that we fail to see the error of our ways. Are you always on the run?
Are You Always on the Run?
Please leave a comment and tell us what you think or share it with someone who can benefit from the information.
Additional Reading:
Doing Nothing is Time Well Spent
Living in the Fast Lane
Change Your Priorities: Change Your Life
30 Habits That Create Enormous Distress
A Simple Reminder That Could Change Your Life
You May Regret Not Reading This
If you like this article, subscribe to our blog so that you don't miss a single post. Get future posts by RSS feed, email or Facebook. It's FREE.