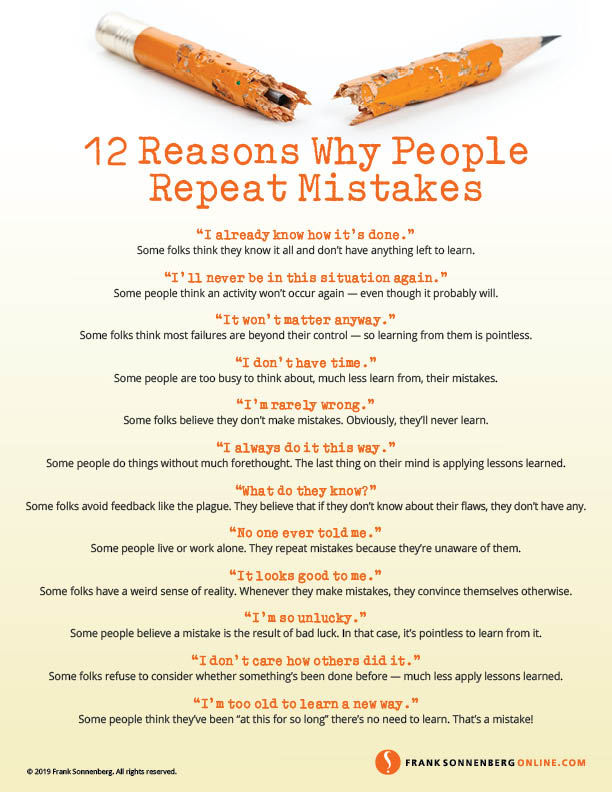 [pinit count="horizontal"]
We all make mistakes. No one is perfect. But how many mistakes can be avoided? The truth is, some people repeat mistakes with alarming regularity. They make a mistake, get up from the fall, and run right back into the wall…again. Ouch! Do you repeat mistakes or learn from them?
12 Reasons Why People Repeat Mistakes
Ask yourself, "Do I have 20 years of experience or one year of experience repeated 20 times?" Here are 12 reasons why people repeat mistakes. They say:
"I already know how it's done." Some folks think they know it all and don't have anything left to learn.
"I'll never be in this situation again." Some people think an activity won't occur again — even though it probably will.
"It won't matter anyway." Some folks think most failures are beyond their control — so learning from them is pointless.
"I don't have time." Some people are too busy to think about, much less learn from, their mistakes.
"I'm rarely wrong." Some folks believe they don't make mistakes. Obviously, they'll never learn.
"I always do it this way." Some people do things without much forethought. The last thing on their mind is applying lessons learned. 
"What do they know?" Some folks avoid feedback like the plague. They believe that if they don't know about their flaws, they don't have any.
"No one ever told me." Some people live or work alone. They repeat mistakes because they're unaware of them.
"It looks good to me." Some folks have a weird sense of reality. Whenever they make mistakes, they convince themselves otherwise.
"I'm so unlucky." Some people believe a mistake is the result of bad luck. In that case, it's pointless to learn from it.
"I don't care how others did it." Some folks refuse to consider whether something's been done before — much less apply lessons learned.
"I'm too old to learn a new way." Some people think they've been "at this for so long" there's no need to learn. That's a mistake!
Do You Learn from Your Mistakes?
Please leave a comment and tell us what you think or share it with someone who can benefit from the information.
Additional Reading:
Make Experience Your Best Teacher
How Do You React to Mistakes?
The Biggest Mistake, Ever!
28 Common Decision-Making Mistakes to Avoid
Failing Doesn't Make You a Failure
If you like this article, subscribe to our blog so that you don't miss a single post. Get future posts by RSS feed, email or Facebook. It's FREE.