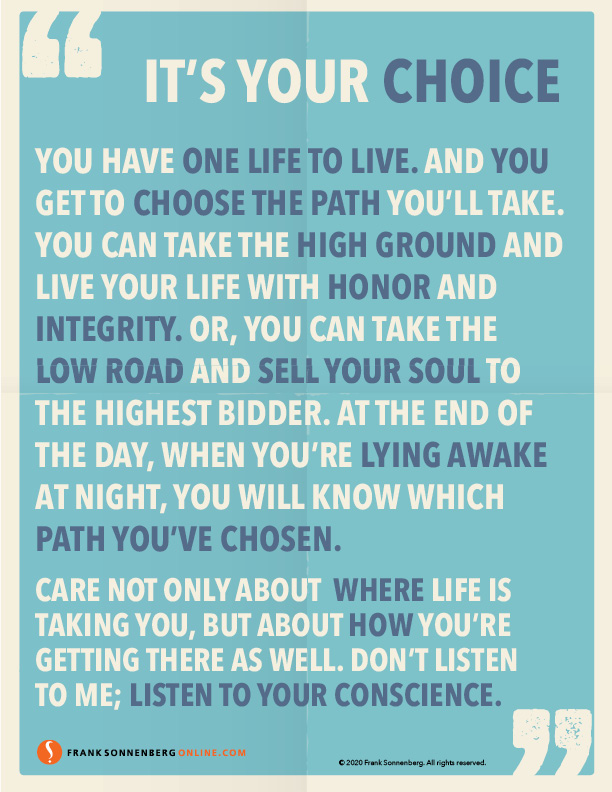 [pinit count="horizontal"]
It's Your Choice
I hear about people who lie, cheat, and steal, and I ask myself why? Are they so mediocre that they have to lie to make themselves look good? Are they so desperate that they have to cheat to get ahead? Are they so hopeless that they have to steal to satisfy their greed? Most of all…are they so shallow that their guilt doesn't haunt them every single night? Do you want to live that way? It's your choice.
Some folks think their poor behavior is acceptable. I'm here to tell you it's not. They're willing to turn a deaf ear to their wrongdoings. The truth is, when you think you're fooling the world, you're only kidding yourself. A life of honor offers abundant rewards; a life of dishonor comes at a very steep price. Your conscience should be your guiding force every day.
I'm probably not telling you anything you don't already know. But ask yourself: If it's so obvious, why don't people listen to their conscience? I'm not asking you to be a saint, but let's get real.
It's Your Choice
You have one life to live. And YOU get to choose the path you'll take. You can take the high ground and live your life with honor and integrity. Or, you can take the low road and sell your soul to the highest bidder. At the end of the day, when you're lying awake at night, you will know which path you've chosen.
Care not only about where life is taking you, but about how you're getting there as well.
Don't listen to me; listen to your conscience.
The Choice is Yours
Please leave a comment and tell us what you think or share it with someone who can benefit from the information.
Additional Reading:
Take Ownership By Taking Responsibility
Never Lower Your Personal Standards. Never!
Make Good Choices
Are You Blurring the Line Between Right and Wrong?
Would You Do Something Unethical If You Could Get Away with It?

If you like this article, subscribe to our blog so that you don't miss a single post. Get future posts by RSS feed, email or Facebook. It's FREE.