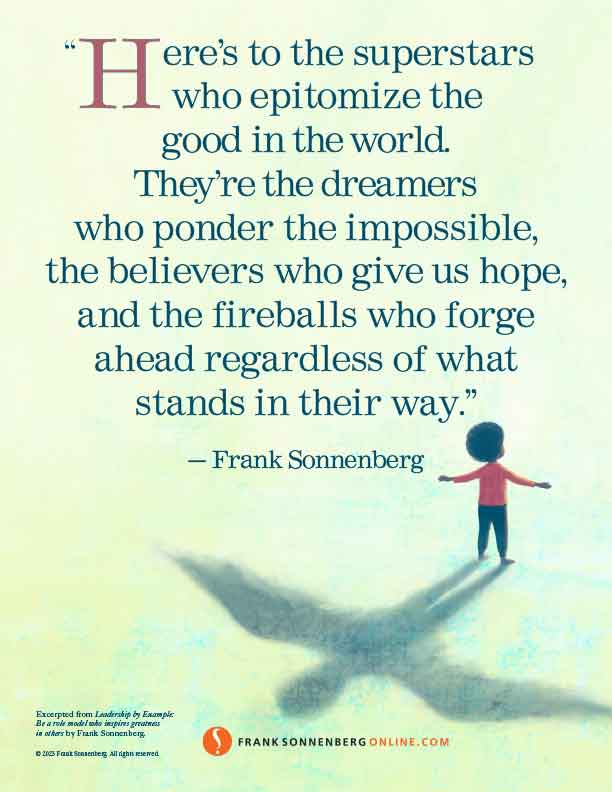 [pinit count="horizontal"]
Here's to the Superstars
Here's to folks, like you and me, who try to make a difference. You may be a teacher who changed a student's life, a coach who helped your players achieve greatness, or even a stranger who went out of your way for a person you didn't know. You live with honor and integrity, stay true to your beliefs and values, and your word is as good as a contract. You set high standards, make good choices, and accept responsibility for your actions. You treat everyone with dignity and respect, make people feel special, and you bring out the best in them. In sum, you strive to be an exemplary role model and lead by example in everything you do. I call them superstars.
You never know when you're creating a spark that will last forever.
Here's to the superstars who epitomize the good in the world. They're the dreamers who ponder the impossible, the believers who give us hope, and the fireballs who forge ahead regardless of what stands in their way. They're everyday people who are too humble to seek attention — even though they deserve it…and too honorable to ask for a reward — even though they earned it.
You know these superstars, and I do, too. They bring good to the world. And I for one wish to thank them for their leadership, courage, and selflessness. They're the best of the best — ordinary folks who make a difference in extraordinary ways.
This is an excerpt from, Leadership by Example: Be a role model who inspires greatness in others.
Are You a Superstar?
Please leave a comment and tell us what you think or share it with someone who can benefit from the information
Additional Reading:
Leadership by Example: Be a role model who inspires greatness in others
Who's Your Hero?
The Power of One
Change Someone's Life and You May End Up Changing Yours
9 Powerful Reasons Why Your Moral Character Matters
Promise Yourself
Make Every Moment Matter
If you like this article, subscribe to our blog so that you don't miss a single post. Get future posts by RSS feed, email or Facebook. It's FREE.