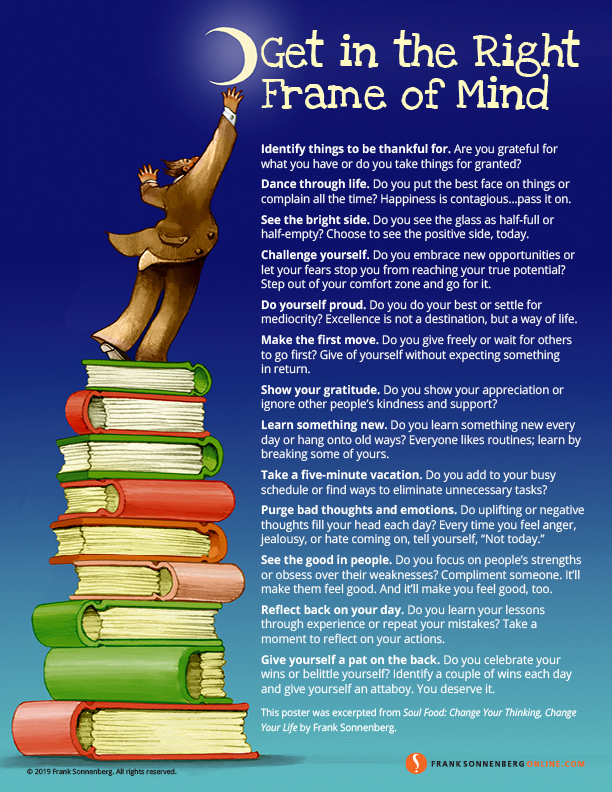 [pinit count="horizontal"]
Mindfulness: 13 Ways to Obtain a Positive Mindset
Take a moment each day to ensure that your mindset is actively serving your best interests. Here are 13 factors to cultivate mindfulness.
Identify things to be thankful for. Are you grateful for what you have or do you take things for granted? Take a moment to appreciate the wonderful things in your life.
Dance through life. Do you put the best face on things or complain all the time? Happiness is contagious…pass it on. As Dale Carnegie said, "Act enthusiastic, and you will be enthusiastic."
See the bright side. Do you see the glass as half-full or half-empty? Choose to see the positive side, today.
Challenge yourself. Do you embrace new opportunities or let your fears stop you from reaching your true potential? Step out of your comfort zone and go for it.
Do yourself proud. Do you do your best or settle for mediocrity? Excellence is not a destination, but a way of life.
Make the first move. Do you give freely or wait for others to go first? Give of yourself without expecting something in return. One of the best ways to find satisfaction is to give it away.
Show your gratitude. Do you show your appreciation or ignore other people's kindness and support? Take a moment to show how much you care.
Learn something new. Do you learn something new every day or hang onto old ways? Everyone likes routines; learn by breaking some of yours.
Take a five-minute vacation. Do you add to your busy schedule or find ways to eliminate unnecessary tasks? Use your extra time to practice mindfulness, meditation, or yoga.
Purge bad thoughts and emotions. Do uplifting or negative thoughts fill your head each day? Every time you feel anger, jealousy, or hate coming on, tell yourself, "Not today."
See the good in people. Do you focus on people's strengths or obsess over their weaknesses? Compliment someone. It'll make them feel good. And it'll make you feel good, too.
Reflect back on your day. Do you learn your lessons through experience or repeat your mistakes? Take a moment to reflect on your actions. Pause…and learn, before marching on.
Give yourself a pat on the back. Do you celebrate your wins or belittle yourself? Identify a couple of wins each day and give yourself an attaboy. You deserve it.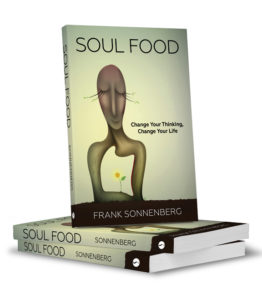 This poster was excerpted from Soul Food: Change Your Thinking, Change Your Life by Frank Sonnenberg.
How Often Do You Practice Mindfulness?
Please leave a comment and tell us what you think or share it with someone who can benefit from the information.
Additional Reading:
The Power of a Positive Attitude
Do You Take It for Granted?
Do You Have a Victim Mentality?
30 Habits that Create Enormous Distress
Don't You Worry About a Thing
If you like this article, subscribe to our blog so that you don't miss a single post. Get future posts by RSS feed, email or Facebook. It's FREE.