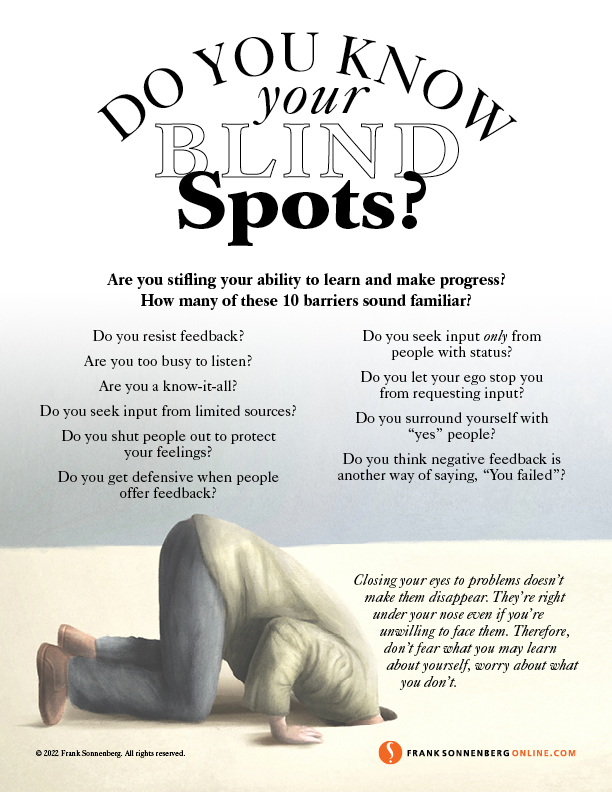 [pinit count="horizontal"]
Do You Know Your Blind Spots?
How can you address weaknesses if you're blind to your flaws? How can you have meaningful relationships if you build walls around yourself? How will you know if your ideas are sound if you don't let people challenge them? The only difference between being uninformed and being misinformed is that one is your choice and the other is theirs. Do you know your blind spots?
When you resist input, ignore feedback, select ideas from the chosen few, and live behind closed doors, you're going nowhere fast. You're stifling your ability to learn, destroying your ability to grow, and shutting your eyes to reality. Some folks believe that if you don't know your weaknesses, you don't have any. The reality is, closing your eyes to problems doesn't make them disappear. They're right under your nose even if you're unwilling to face them. Therefore, don't fear what you may learn about yourself, worry about what you don't.
Are You Blind to Your Flaws?
Are you stifling your ability to learn and make progress? How many of these 10 barriers sound familiar?
Do you resist feedback?
Are you too busy to listen?
Are you a know-it-all?
Do you seek input from limited sources?
Do you shut people out to protect your feelings?
Do you get defensive when people offer feedback?
Do you seek input only from people with status?
Do you let your ego stop you from requesting input?
Do you surround yourself with "yes" people?
Do you think negative feedback is another way of saying, "You failed"?
If you think tuning others out is positive, in any way, you're sadly mistaken. When you avoid feedback, shut down debate, or fail to request input, it's counterproductive. What you don't know can hurt you.
Do You Know Your Blind Spots?
Please leave a comment and tell us what you think or share it with someone who can benefit from the information.
Additional Reading:
Did You Know that Dogs Can Fly?
How Do You React to Negative Feedback?
How to Have a Fresh Perspective
Protect Yourself from Bad Information
How to Give Feedback
GroupThink: What Makes You Think Other Know Better?
If you like this article, subscribe to our blog so that you don't miss a single post. Get future posts by RSS feed, email or Facebook. It's FREE.