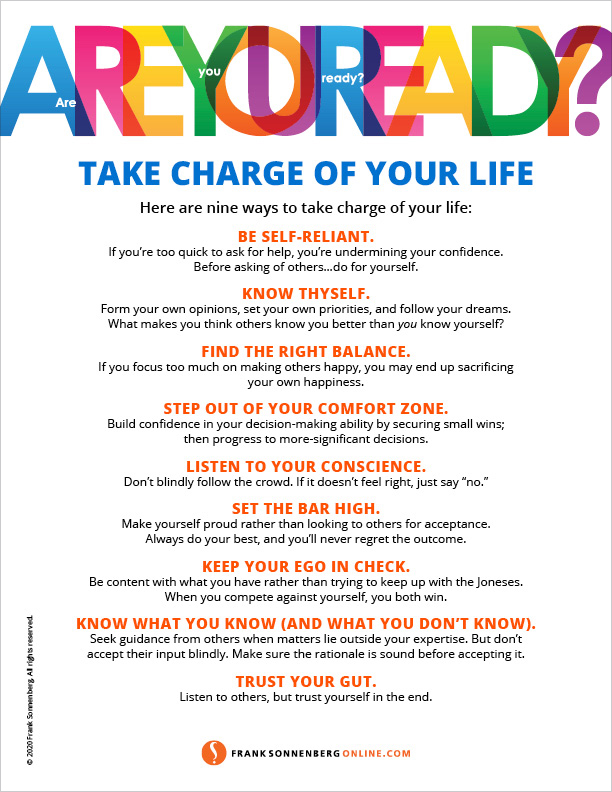 [pinit count="horizontal"]
Get Motivated and Take Charge of Your Life
Be the person who makes you proud. Follow your grandest dreams. Reach for your highest goals. Do the things that excite you and give you the greatest pleasure. Most of all, live a life that gives you purpose. This isn't a journey for the faint of heart or for others to take for you. Accept ownership of your life rather than relinquishing that responsibility to others. It's time to get motivated and take charge of your life. You owe it to yourself.
Here are nine ways to get motivated and take charge of your life:
Be self-reliant. If you're too quick to ask for help, you're undermining your confidence. Before asking of others…do for yourself.
Know thyself. Form your own opinions, set your own priorities, and follow your dreams. What makes you think others know you better than you know yourself?
Find the right balance. If you focus too much on making others happy, you may end up sacrificing your own happiness.
Step out of your comfort zone. Build confidence in your decision-making ability by securing small wins; then progress to more-significant decisions.
Listen to your conscience. Don't blindly follow the crowd. If it doesn't feel right, just say "no."
Set the bar high. Make yourself proud rather than looking to others for acceptance. Always do your best, and you'll never regret the outcome.
Keep your ego in check. Be content with what you have rather than trying to keep up with the Joneses. When you compete against yourself, you both win.
Know what you know (and what you don't know). Seek guidance from others when matters lie outside your expertise. But don't accept their input blindly. Make sure the rationale is sound before accepting it.
Trust your gut. Listen to others, but trust yourself in the end.
Are You Motivated to Take Charge of Your Life?
Please leave a comment and tell us what you think or share it with someone who can benefit from the information.
Additional Reading:
It's Your Life to Live. Own It!
Make Good Choices
Groupthink: What Makes You Think Others Know Better?
Do You Compare Yourself to Others?
Dilemma: Have to vs. Want To
If you like this article, subscribe to our blog so that you don't miss a single post. Get future posts by RSS feed, email or Facebook. It's FREE.