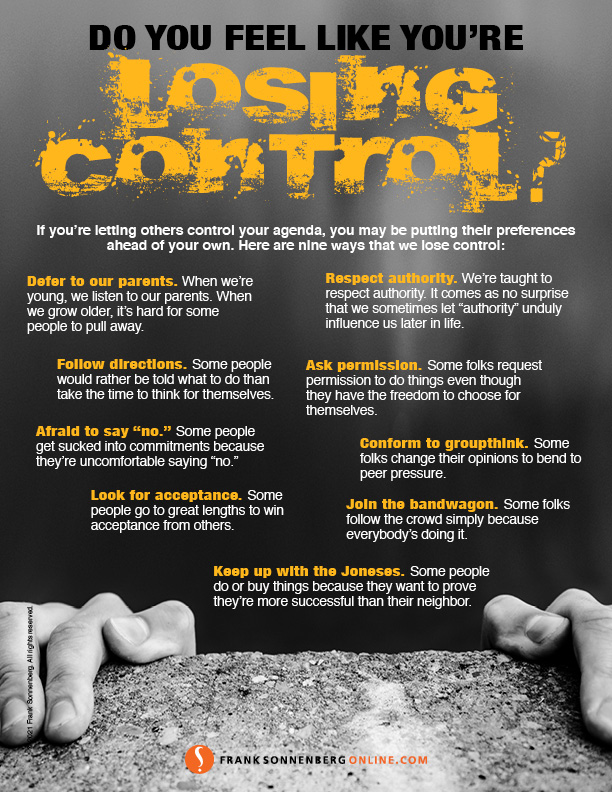 [pinit count="horizontal"]
Get Motivated and Take Charge of Your Life
Do you feel like you're losing control? Many of us seek approval from others, follow the crowd, or try to keep up with the Joneses.
When you constantly seek approval, you give more weight to another person's opinion than to your own. When you're hijacked by other people's priorities, you don't have time to tackle your own. And when you follow the crowd or change your viewpoints to fit in, you're not being true to yourself or your values.
Here are nine ways that we lose control:
Defer to our parents. When we're young, we listen to our parents. When we grow older, it's hard for some people to pull away.
Respect authority. We're taught to respect authority. It comes as no surprise that we sometimes let "authority" unduly influence us later in life.
Follow directions. Some people would rather be told what to do than take the time to think for themselves.
Ask permission. Some folks request permission to do things even though they have the freedom to choose for themselves.
Afraid to say "no." Some people get sucked into commitments because they're uncomfortable saying "no."
Conform to groupthink. Some folks change their opinions to bend to peer pressure.
Look for acceptance. Some people go to great lengths to win acceptance from others.
Join the bandwagon. Some folks follow the crowd simply because everybody's doing it.
Keep up with the Joneses. Some people do or buy things because they want to prove they're more successful than their neighbor.
Are you losing control? This isn't a call to disregard your need to fit in or to reject the support of others. But if you're letting others control your agenda, you may be putting their preferences ahead of your own.
Do You Feel Like You're Losing Control?
Please leave a comment and tell us what you think or share it with someone who can benefit from the information.
Additional Reading:
Do You Compare Yourself to Others?
Change Your Priorities: Change Your Life
It's Beyond Your Control
Take Ownership By Taking Responsibility
Say Yes to No
If You Can't Be Yourself Around Others, Who Are You?
If you like this article, subscribe to our blog so that you don't miss a single post. Get future posts by RSS feed, email or Facebook. It's FREE.