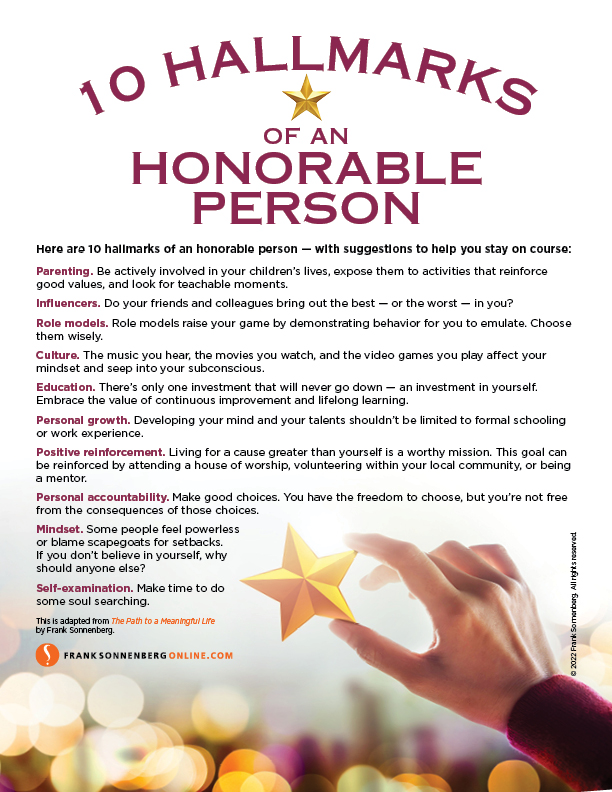 [pinit count="horizontal"]
10 Hallmarks of an Honorable Person
Some people feel that honor and integrity are important. Others don't. So they rationalize, thinking "I'm under pressure to perform," "The rewards are worth it," or "It'll only be this time" to justify their behavior. Folks who take what they don't deserve, mistreat people, or cheat to get what they want are only hurting themselves. Do you possess the hallmarks of an honorable person? You be the judge.
It takes a conscious and concerted effort to be a person of integrity. Here are 10 hallmarks of an honorable person — with suggestions to help you stay on course:
Parenting. Be actively involved in your children's lives, expose them to activities that reinforce good values, and look for teachable moments.
Influencers. Top-notch people have strong moral character, live a virtuous life, and bring out the best in you. Do your friends and colleagues bring out the best — or the worst — in you?
Role models. Role models represent the epitome of excellence. They raise your game by demonstrating behavior for you to emulate. Choose your role models wisely.
Culture. The music you hear, the movies you watch, and the video games you play affect your mindset and seep into your subconscious. Watch what you eat and how you feed your mind.
Education. There's only one investment that will never go down — an investment in yourself. Embrace the value of continuous improvement and lifelong learning.
Personal growth. Developing your mind and your talents shouldn't be limited to formal schooling or work experience; you can gain just as much from playing a sport or learning to play a musical instrument. Performing the activity well isn't what counts — it's the know-how gained from the encounter.
Positive reinforcement. Living for a cause greater than yourself is a worthy mission. This goal can be reinforced by attending a house of worship, volunteering within your local community, joining a values-based organization, or being a mentor.
Personal accountability. Make good choices. You have the freedom to choose, but you're not free from the consequences of those choices.
Mindset. Some people feel powerless or blame scapegoats for setbacks. They believe they can't affect their personal situation — so they stop trying. If you don't believe in yourself, why should anyone else?
Self-examination. Make time to do some soul searching.
The real prize for living with integrity is making yourself proud. You can take great pride in knowing that you held yourself to a high standard and never compromised your ideals. You didn't choose the easy route, but you preferred the honorable way. You fought hard to attain your dreams, but you did so with dignity and grace. In so doing, you brought honor to your family, you earned respect from your friends, and most importantly, you did yourself proud. Bravo!
This post was adapted from The Path to a Meaningful Life by Frank Sonnenberg
Do You Possess the Hallmarks of An Honorable Person?
Please leave a comment and tell us what you think or share it with someone who can benefit from the information.
Additional Reading:
15 Ways to Pass Your Values On to Your Kids
Why Do You Trust Some People and Mistrust Others?
Moral Character Matters
Live With Honor and Integrity
Reputation: You Can't Run from Your Shadow
13 Ways To Be a Good Role Model
If you like this article, subscribe to our blog so that you don't miss a single post. Get future posts by RSS feed, email or Facebook. It's FREE.